ASU Hosts Clinic for CHHS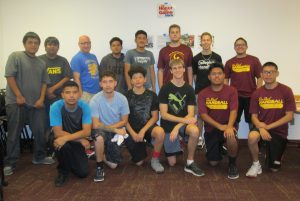 Tempe, AZ, WPH Press, 11/6/17- The ASU handball team, led by head coach Dan Willeford, coached a three-hour handball clinic for high school students from Phoenix's Carl Hayden High School on Saturday, November 4 at the Sun Devils home courts in Tempe, AZ.  The ASU team started the clinic by sharing their perspective on safety and sportsmanship, followed by an introduction to small ball. The small ball instruction included proper hand care, hand positioning, stroke mechanics and footwork.
After the instruction, the ASU team and the high school handballers played some games to practice what the newcomers had learned. Next, the Sun Devils instructed the Falcons on different serves; they are quick learners!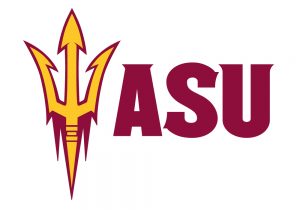 We finished up with more scrimmaging so players could develop more experience with the different serves and techniques they had learned.

Throughout the clinic, the Sun Devils emphasized their philosophy on the importance of effort, mistakes and learning.

Afterwards, the players enjoyed pizzas and discussions on how college life differs from high school.

"I want to thank our ASU Sun Devil instructors Austen Bennett, Esteban Camacho, Derek Doyle, David Frances, and Juan Valerio," stated Coach Willeford. "It's great to see the ASU players giving back to the new players."

Keep an eye out on juniorhandball.org, as new clinic opportunities and recaps pop up weekly. Want to coach a clinic or a junior handball program? Need more information regarding junior handball? The Junior WPH group spans multiple countries, continents and oceans with clinics happening daily. We can help! Contact WPH Development Director David Fink at fink@race4eight.com

To enable Junior WPH to continue to host junior handball clinics and tournaments across North America with Certified WPH Coaches, the World Players of Handball invites you to make a tax-deductible donation today in supporting the growth of the game. 100% of the donations received by the WPH go towards junior handball development.  Donate on-line here, or send your generous gifts through PayPal (extremehandball@cs.com) or by mailing checks to:  WPH, 3561 E. Sunrise Dr. Suite 125, Tucson, AZ, 85718.

Dan Willeford

ASU Head Handball Coach

Posted on: November 6, 2017, by : DV