Stay in School Handball Event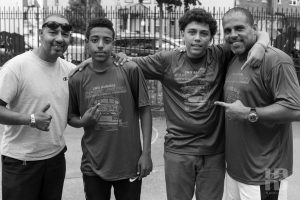 Brooklyn, NY, WPH Press, 9/6/17- JR WPH was proud to be one of the sponsors of the Labor Day Weekend Castle Hill Handball Association's 2nd Annual Stay in School Handball Tournament, featuring 110 jr handball players at Castle Hill Ave. Handball Courts in Brooklyn, NY. Each participant of the Stay in School Handball Tournament received a free backpack with school supplies fill with school year essentials. In addition to receiving backpacks and school supplies for participating, the top three finishers in each age group won laptops, bicycles, tablets, and more. Wow!
"Big shout out to Castle Hill's Richie Vera for the 2017 Stay in School tournament," barked Brooklyn's Francisco Aponte. "It was amazing to see 110 kids playing handball. Thank you Richie for loving and giving back so much to our sport, our youth will never forget events like this one."
"Big shout out to Richie Vera for always doing great things for the Handball community and the youth at the Stay in School tournament at Castle Hill," expressed 1-Wall Big Ball #1 Timbo Gonzalez. "Richie and his Castle Hill staff truly does this from the heart and the love for handball."
"Richie Vera and the Castle Hill Handball Association are doing incredible things for young people in Brooklyn and JR WPH is so proud to support Richie, the Castle Hill Handball Association, and the young people playing handball," stated WPH Development Director David Fink. "Nothing could be better than inspiring the next generation of handball players in a positive and organized Labor Day Weekend event, all while providing the youngsters back to school supplies to ensure that the kids are prepared to succeed in the upcoming school year. Thank you Richie and the Castle Hill Handball Association!"
Photos courtesy of New York City Handball (NYCHB)
The World Players of Handball and Castle Hill Handball Association are thrilled to partner in presenting the upcoming 2018 WPH Outdoor Castle Hill Handball Florida Cup January 13-14, 2018. The Florida Cup will be the WPH Outdoor VII Stop #1 and promises to be a sensational event in Hollywood Beach, FL. Details coming soon!
Keep an eye out on juniorhandball.org, as new clinic opportunities and recaps pop up weekly. Want to coach a clinic or a junior handball program? Need more information regarding junior handball? The Junior WPH group spans multiple countries, continents and oceans with clinics happening daily. We can help! Contact WPH Development Director David Fink at fink@race4eight.com

To enable Junior WPH to continue to host junior handball clinics and tournaments across North America with Certified WPH Coaches, the World Players of Handball invites you to make a tax-deductible donation today in supporting the growth of the game. 100% of the donations received by the WPH go towards junior handball development.  Donate on-line here, or send your generous gifts through PayPal (extremehandball@cs.com) or by mailing checks to:  WPH, 3561 E. Sunrise Dr. Suite 125, Tucson, AZ, 85718.

Posted on: September 6, 2017, by : DV