JR WPH UWF Summer '17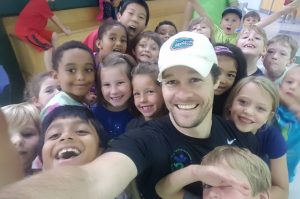 – UPDATES – Pensacola, FL, WPH Press, 8/31/17- JR WPH sponsored University of West Florida continues to flourish under the direction of UWF Handball Club founder and current UWF Outdoor Recreation Director Michael Morgan. 2016 JR WPH Collegiate Coach of the Year Mike Morgan led summer clinics for West Florida youth, as well as weekly clinics and tournaments during the school year for University of West Florida collegiate athletes and handball team members.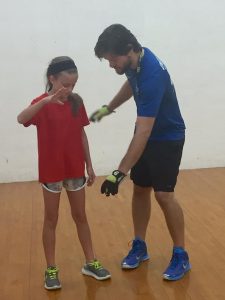 This summer saw the UWF Handball Club leads numerous youth handball clinics for 200 local kids, emphasizing the fundamentals and rules of handball, with the emphasis on having fun on the court. Following a sensational summer of junior handball coaching, Coach Morgan and the UWF Handball Club kicked off freshman orientation at the beginning of the fall semester at UWF, introducing 400 incoming freshman to handball during UWF's freshman orientation. The collegiate newbies were taught the basics of handball, starting with the proper swing mechanics to develop the correct handball stroke. The UWF Handball Team's practices will kickoff this fall with a number of the incoming freshman joining, with the UWF Handball Team holding three practices during the week and an optional Sunday practice for UWF team members.
In addition to the summer youth clinics, orientation handball introduction, and weekly practices, the UWF Handball Team will embark upon an ambitious fall and winter tournament schedule. "We have a full slate of tournaments this year," barked a proud Coach Morgan. "In the fall we plan on hitting the University of Texas in late September, the Atlanta Race Stop in early October, hosting our fall tournament at UWF, which the players have appropriately changed the named to the "I Love Handball" Classic (I love these kids) October 20-22. To finish out the fall tournaments, we head to Missouri State in early November.  As fun as the fall is, the spring semester is where we really start to see players get excited.  We hit the ground running by hosting another tournament just after the start of the semester in mid-January, then get ready for the grand daddy of them all the Collegiate Nationals in mid-February.  Our state tournament has us going to the University of South Florida (USF) in early March and we will finish off the school year with another trip out to the University of Texas in April."
"Coach Morgan is truly one of handball's greatest treasures," stated WPH Development Director David Fink. "Coach Morgan's passion and endless enthusiasm for growing the game is unsurpassed and the WPH cannot possibly express our gratitude for what Coach Morgan brings to this great sport. Thank you Coach Mike!"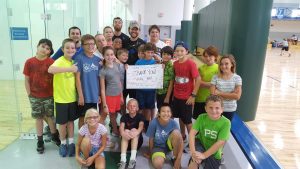 Keep an eye out on juniorhandball.org, as new clinic opportunities and recaps pop up weekly. Want to coach a clinic or a junior handball program? Need more information regarding junior handball? The Junior WPH group spans multiple countries, continents and oceans with clinics happening daily. We can help! Contact WPH Development Director David Fink at fink@race4eight.com

To enable Junior WPH to continue to host junior handball clinics and tournaments across North America with Certified WPH Coaches, the World Players of Handball invites you to make a tax-deductible donation today in supporting the growth of the game. 100% of the donations received by the WPH go towards junior handball development.  Donate on-line here, or send your generous gifts through PayPal (extremehandball@cs.com) or by mailing checks to:  WPH, 3561 E. Sunrise Dr. Suite 125, Tucson, AZ, 85718.

Posted on: August 31, 2017, by : DV