JR WPH UWF "I Love Handball"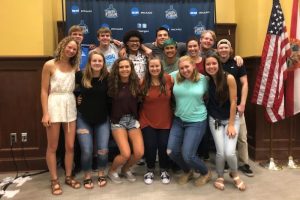 Pensacola, FL, WPH Press, 10/25/18- The University of West Florida proudly hosted the JR WPH UWF "I Love Handball" Fundraiser Classic at the HLS Facility on the campus of the University of Florida on the third weekend in October, featuring collegiate players from the University of West Florida and the University of Texas. JR WPH has proudly sponsored the UWH Argos Handball Team since 2013, one of the best collegiate handball programs in the country.
The University of Texas' Jeremy Aguilar captured the four-man Men's Open singles round robin, defeating Nicholas Wilson (FL), Mike Desgrottes (FL), and the 2017 JR WPH Collegiate Coach of the Year and UWF handball standout Michael Morgan.
Coach Morgan bounced back in the Open Doubles, teaming with Desgrottes to overcome Enrique Arancibi (TX) and Aguilar.
Avery Shepherd (TX) captured the Women's Open singles, defeating Tiffany Duncan (FL), Annie Wallace (FL), and Bella Smith (TX).
"JR WPH is extremely proud to support the UWF Team and the exciting UWF events and clinics throughout each year," stated WPH Development Director David Fink. "Seeing the University of Texas travel to Pensacola to challenge their UWF friends and rivals is awesome!"
Thank you to UWF tournament directors Kayla Fulghum and JR WPH Collegiate Coach of the Year Michael Morgan. Photos courtesy of Michael Morgan.

Follow the brackets and results from the JR WPH UWF "I Love Handball" Fundraiser Classic HERE

Keep an eye out on juniorhandball.org, as new clinic opportunities and recaps pop up weekly. Want to coach a clinic or a junior handball program? Need more information regarding junior handball? The Junior WPH group spans multiple countries, continents and oceans with clinics happening daily. We can help! Contact WPH Development Director David Fink at david.fink@wphlive.tv

To enable Junior WPH to continue to host junior handball clinics and tournaments across North America with Certified WPH Coaches, the World Players of Handball invites you to make a tax-deductible donation today in supporting the growth of the game. 100% of the donations received by the WPH go towards junior handball development. Donate on-line here, or send your generous gifts through PayPal (extremehandball@cs.com) or by mailing checks to: WPH, 3561 E. Sunrise Dr. Suite 125, Tucson, AZ, 85718.

David Fink

WPH Senior Writer

Posted on: October 25, 2018, by : DV