JR WPH Does SoCal Clinic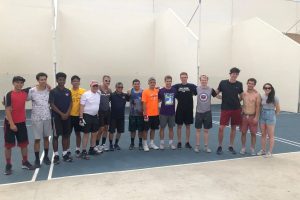 2019 USHA Four Wall Nationals Junior Clinic w/USHA and Junior WPH…
Fountain Valley, CA, WPH Press, 7/3/19- Six of the world's top pros teamed up with seven of the Southern California junior stars for a special Pro/Am 3-Wall Doubles Championship on Los Cab's 3-Wall courts at the 69th annual USHA Four Wall National Championships. The juniors played between 5-7 matches with their heroes, enjoying the camaraderie and competition that makes handball the perfect game.
"Our kids had such a great time playing with and against the pros," stated Coach Patrick Saito. "This was such a cool experience for them and definitely one they'll never forget."
"I had a great time playing doubles with the pros and I even had a chance to play some 3-Wall singles with the pros," stated 1-Wall, 3-Wall, and 4-Wall junior singles and doubles national champion David Sanchez iii. "Thank you!"
"Playing doubles with the juniors was the most fun experience in what was perfect tournament at Los Cab," stated WPH Development Director David Fink. "Sharing the court with the juniors and seeing their smiles is why the WPH and the USHA are so motivated to teach handball to as many people as we can."
David Fink and his father Rodney took the Pro/Am 3-Wall Doubles title, going undefeated in five matches of round robin play.
Photos courtesy of David Sanchez and Matthew Chu
Keep an eye out on juniorhandball.org, as new clinic opportunities and recaps pop up weekly. Want to coach a clinic or a junior handball program? Need more information regarding junior handball?
The Junior WPH group spans multiple countries, continents and oceans with clinics happening daily. We can help! Contact WPH Development Director David Fink at david.fink@wphlive.tv
To enable Junior WPH to continue to host junior handball clinics and tournaments across North America with Certified WPH Coaches, the World Players of Handball invites you to make a tax-deductible donation today in supporting the growth of the game. 100% of the donations received by the WPH go towards junior handball development. Donate on-line HERE or send your generous gifts through PayPal (HERE) or by mailing checks to: WPH, 3561 E. Sunrise Dr. Suite 125, Tucson, AZ, 85718.

Become a handball insider by enjoying never before seen videos, pro commentary, special awards, Sports Casts archives and new episodes, live broadcasts, and much more by supporting the WPH and inspiring the next generation of players through the WPH Patreon program.

Become a WPH Patreon HERE

Posted on: July 3, 2019, by : DV