JR WPH/USHA Clinic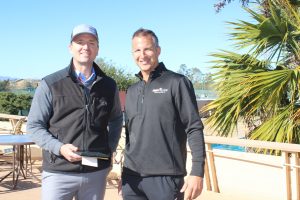 Tucson, AZ, WPH Press, 12/26/19- Junior WPH and the United States Handball Association were thrilled to collaborate on a special junior handball clinic at the 2019 USHA National Junior 4-Wall Championships. WPH R48 (#5 ranked-pro) and Master Instructor, David Fink, led of group of twenty junior players between the ages of 9-18 from Arizona, Illinois, California, and Ireland through a set of drills aimed at improving handball fundamentals, technique, and practice routines. Players were taught the Dave Chapman "line drill," as well as the proper striking mechanics for the offensive and defensive shots. The clinic concluded with a power-serving lesson.
"It all starts with the fundamentals," stated legendary Chicago coach Don Quinlan, who brought a strong Lattoff YMCA team to the 2019 USHA Four Wall Junior Nationals. "Kids need to see and hear the fundamentals then critically watch the top players play to absorb the footwork and proper swings. It takes awhile but once they get it, their games take off very quickly."
"I know how much it meant to me as a junior when I could learn from one of the pros," Fink shared. "Those are memories that I have always cherished. It's an honor to be asked to teach these great young handballers and I hope I can make the type of impact that pros like John Bike made on me."
Following the clinic, Fink played practice matches with several of the top junior handball players in the world.
"Having a chance to play against some of these great young players was a huge thrill—I'm sharing the court with the next generation and hoping to inspire them."
Huge thanks to Matt Krueger, Vern Roberts, and the USHA for #collaborating on the inspiring clinic. Look for a lot of WPH/USHA #collaboration in 2020!
Keep an eye out on juniorhandball.org, as new clinic opportunities and recaps pop up weekly. Want to coach a clinic or a junior handball program? Need more information regarding junior handball? The Junior WPH group spans multiple countries, continents and oceans with clinics happening daily. We can help! Contact WPH Development Director David Fink at david.fink@wphlive.tv
To enable Junior WPH to continue to host junior handball clinics and tournaments across North America with Certified WPH Coaches, the
World Players of Handball invites you to make a tax-deductible donation today in supporting the growth of the game. 100% of the donations received by the WPH go towards junior handball development. Donate on-line HERE or send your generous gifts through PayPal (HERE) or by mailing checks to: WPH, 3561 E. Sunrise Dr. Suite 125, Tucson, AZ, 85718.

Become a handball insider by enjoying never before seen videos, pro commentary, special awards, Sports Casts archives and new episodes, live broadcasts, and much more by supporting the WPH and inspiring the next generation of players through the WPH Patreon program.

Become a WPH Patreon HERE

Follow all of the latest handball news from the WPH HERE

Follow all of the latest news from JR WPH HERE

2019/20 Race 4 Eight IX Schedule HERE

Posted on: December 30, 2019, by : DV