JR WPH @ TRC Summer Camp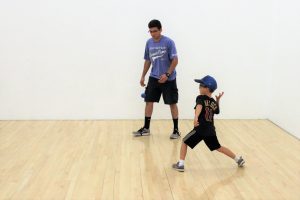 Tucson, AZ, WPH Press- JR WPH is proud to be leading the handball department at the TRC All Sports Summer Camp for the 5th consecutive summer, coaching 25 4-Wall and 1-Wall handball clinics per week throughout the 10-week summer camp. Campers are rotated from basketball, swimming, tennis, volleyball and handball, with each camper playing handball four times per week.
JR WPH focuses on the handball fundamentals, with the emphasis on having fun playing handball. With drills and games specifically designed for all ages and levels of campers, campers are able to enjoy learning and playing handball at their pace. JR WPH reaches more than 600 campers between the ages of 7-16 throughout the summer camp, introducing handball to many youngsters who would have otherwise not had the opportunity to play.
"I've always said that handball is the best sport for forcing you to move your feet because you don't have a racquet, you really have to move," stated TRC Summer Camp indoor sports director Coach Anderson. "The handball coaches have always been prepared with great lessons and games and have done a great job with the kids every summer at camp, including this summer."
Keep an eye out on juniorhandball.org, as new clinic opportunities and recaps pop up weekly. Want to coach a clinic or a junior handball program? Need more information regarding junior handball? The Junior WPH group spans multiple countries, continents and oceans with clinics happening daily. We can help! Contact WPH Development Director David Fink at fink@race4eight.com
To enable Junior WPH to continue to host junior handball clinics and tournaments across North America with Certified WPH Coaches, the World Players of Handball invites you to make a tax-deductible donation today in supporting the growth of the game. 100% of the donations received by the WPH go towards junior handball development.  Donate on-line here, or send your generous gifts through PayPal (extremehandball@cs.com) or by mailing checks to:  WPH, 3561 E. Sunrise Dr. Suite 125, Tucson, AZ, 85718.

Posted on: June 12, 2017, by : DV