JR WPH Singles @ Battle I '17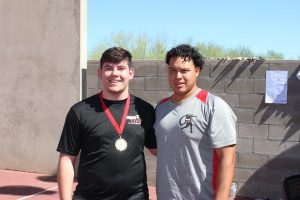 Tucson, AZ, WPH Press, Oct 17 – More than 20 Juniors from Phoenix, ASU, Pima, and the FLF competed in the WPH Outdoor Battle I at Tucson's Pima West College, producing a number of exciting 3 Wall matches and inspiring sportsmanship and camaraderie among the youngsters.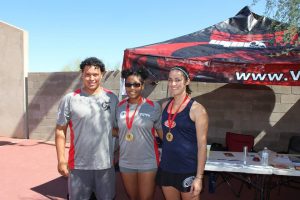 Fred Lewis Foundation superstar Ayden Brule continued to shine, adding the JR WPH 14-and-under Battle I title to his resume, overcoming Jensen Payton, Miguel Sandoval, and Andres Sandoval to win the title.
First: Ayden Brule
Second: Miguel Sandoval
Alejandro Sandoval cruised in the Junior B singles, ousting ASU's Austen Bennett, David Frances, and Phoenix's Donavyn Doyle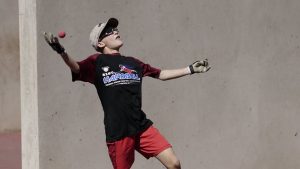 First: Alejandro Sandoval
Second: Donavyn Doyle
Cassie Coolidge defeated Carly Coolidge in the final of the Junior Big Ball Novice bracket, finishing the Junior Big Ball Novice undefeated. Cassie also defeated Bella Alvarez and Alex Gonzalez
First: Cassie Coolidge
Second: Carly Coolidge
FLF standout juniors Kena Byrd and Sophie Della Cruce competed in the women's singles, performing admirably against current 3-Wall national pro finalist Ashley Moler in the round robin format. Kena took second, while Sophie captured third.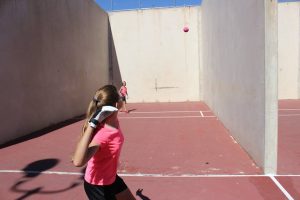 "We are so grateful for Fred Lewis and Abraham Montijo for sending a group of their Fred Lewis Foundation youngsters to the Battle I, as well as Arizona State's Dan Willeford for driving three of his team members to Tucson to participate," stated WPH Development Director David Fink. "We saw seasoned junior stars with national championships, juniors playing in the first tournament, and all levels in between at the Battle I. The common denominator was that each of the youngsters had a great time and developed friendships that they'll maintain for years to come."
Keep an eye out on juniorhandball.org, as new clinic opportunities and recaps pop up weekly. Want to coach a clinic or a junior handball program? Need more information regarding junior handball? The Junior WPH group spans multiple countries, continents and oceans with clinics happening daily. We can help! Contact WPH Development Director David Fink at fink@race4eight.com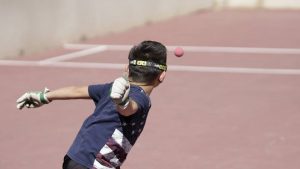 To enable Junior WPH to continue to host junior handball clinics and tournaments across North America with Certified WPH Coaches, the World Players of Handball invites you to make a tax-deductible donation today in supporting the growth of the game. 100% of the donations received by the WPH go towards junior handball development.  Donate on-line here, or send your generous gifts through PayPal (extremehandball@cs.com) or by mailing checks to:  WPH, 3561 E. Sunrise Dr. Suite 125, Tucson, AZ, 85718.

Posted on: October 16, 2017, by : DV