JR WPH Salt Lake City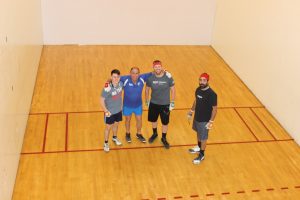 Salt Lake City, UT, WPH Press, 4/20/17- Junior WPH proudly hosted the Salt Lake City Pro ~ Junior Doubles and Instructional Clinic on the opening night of the 2017 WPH Race 4 Eight Salt Lake City Aces Player's Championship 6. Ten WPH R48 & WR48 pros teamed w/ten JR WPH Salt Lake City Aces junior stars and newcomers in a special Pro/Junior Aces Doubles Shootout. Salt Lake City juniors and new players had the opportunity to team with and play against WR48 #1 Catriona Casey, R48 #1 Killian Carroll, 2016 Simple Green U.S. Open Champion Robbie McCarthy, WR48 #2 Martina McMahon, WR48 #3 Aoife McCarthy, R48 top 16 pro Abraham Montijo, Hall of Fame legend Fred Lewis, Hilary Rushe, Michael Gaulton, and Gabhain McCrystal! What an experience!
Robbie McCarthy and Carlos Sotelo advanced to the final in the upper bracket and met Abraham Montijo and Sergio Sotelo in the final. Montijo and Sergio Sotelo grabbed the title in the first Pro/Junior Aces Championship.
"This was just an outstanding night of handball," stated JR WPH Aces Head Coach Ted McManus. "This far exceeded my expectations and this will be an experience our players will always remember. Having a chance to play with the pros will keep these players playing forever."
Following the Aces Pro/Junior doubles, six-time USHA 4-Wall Pro National Singles Champion Fred Lewis coached a clinic for 10 Salt Lake City juniors and newcomers, emphasizing the importance of watching the ball and limiting errors. "Basically, what I'm trying to teach new players is to not lose by making errors and giving setups," stated Coach Lewis.
Thank you to all of the Race 4 Eight superstars and living legend Fred Lewis for donating their time to growing the game on the eve of the biggest event of the year.

Keep an eye out on juniorhandball.org, as new clinic opportunities and recaps pop up weekly. Want to coach a clinic or a junior handball program? Need more information regarding junior handball? The Junior WPH group spans multiple countries, continents and oceans with clinics happening daily. We can help! Contact WPH Development Director David Fink at fink@race4eight.com

To enable Junior WPH to continue to host junior handball clinics and tournaments across North America with Certified WPH Coaches, the World Players of Handball invites you to make a tax-deductible donation today in supporting the growth of the game. 100% of the donations received by the WPH go towards junior handball development.  Donate on-line here, or send your generous gifts through PayPal (extremehandball@cs.com) or by mailing checks to:  WPH, 3561 E. Sunrise Dr. Suite 125, Tucson, AZ, 85718.

Posted on: April 21, 2017, by : DV