JR WPH Pittsburgh Clinic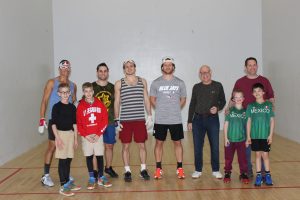 Pittsburgh, PA, WPH Press, 2/25/20- JR WPH proudly hosted a junior handball clinic and fun day at the home of the RFC in Pittsburgh, as Amerifit Handball Club featured two groups of junior handball players learning from Pittsburgh's best players.
The 12-and-under group learned the sidearm swing and played short-court rally games and King of the Court, with the youngsters playing numerous 10+ shot rallies. "This is so great for my son to learn a new sport and he's having such a great time," beamed one of the junior player's moms. "These kids were able to hit the ball with their right and left hands and you could really see the ability," stated RFC tournament namesake and WPH mega donor Rodney Fink.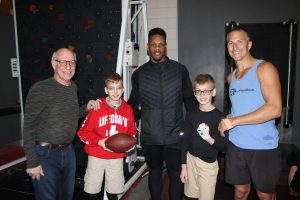 Joe Delsardo coached the older group of players, teaching swing techniques and strategy. Following the instructional, the older players played one another for several hours in preparation for the "C" division at the WPH RFC 12 R48LTE/SR48.

"The clinic was extremely fun to watch and coach," stated WPH Master Instructor David Fink, who coached the 12-and-under group. "The kids had a great time, which is most important. The Pittsburgh group is planning on more JR WPH clinics and I look forward to following the progress."

As an added bonus to the clinic, the kids were able to meet former NFL star Rasheed Marshall, who graciously posed for pictures and signed footballs and gloves for the kids.

Keep an eye out on juniorhandball.org, as new clinic opportunities and recaps pop up weekly. Want to coach a clinic or a junior handball program? Need more information regarding junior handball? The Junior WPH group spans multiple countries, continents and oceans with clinics happening daily. We can help! Contact WPH Development Director David Fink at david.fink@wphlive.tv

To enable Junior WPH to continue to host junior handball clinics and tournaments across North America with Certified WPH Coaches, the World Players of Handball invites you to make a tax-deductible donation today in supporting the growth of the game. 100% of the donations received by the WPH go towards junior handball development. Donate on-line HERE or send your generous gifts through PayPal (HERE) or by mailing checks to: WPH, 3602 E. Ft. Lowell Dr., Tucson, AZ, 85716.

Become a handball insider by enjoying never before seen videos, pro commentary, special awards, Sports Casts archives and new episodes, live broadcasts, and much more by supporting the WPH and inspiring the next generation of players through the WPH Patreon program.

Become a WPH Patreon HERE

Posted on: February 27, 2020, by : DV