JR WPH in Portland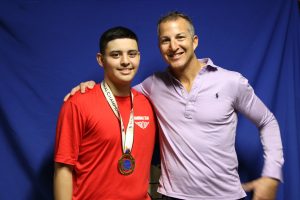 JR WPH and the USHA proudly collaborated on the '18 USHA 4-Wall Jr Nationals/R48 8 Portland to inspire junior handball stars with opportunity to meet, receive autographs, play, and learn from the pros, as well as showcasing two special jr feature matches live on ESPN3.
R48 Elite 8 Autograph Session
The R48 Elite 8 signed autographs for the star-struck juniors competing in the USHA 4-Wall Junior Nationals, handing out 8 x10 autographed pictures signed by each member of the Elite 8. "I'm Killian Carroll," exclaimed an ecstatic 11-year old proudly holding his signed picture.
R48 Pros Take the Court with the Juniors
Throughout the collaborative USHA 4-Wall Junior Nationals/Portland R48 8 event, R48 pros could be seen in the courts with the awestruck juniors, playing two-bounce, giving advice and sharing their passion for the sport. "The highlight of my weekend was playing two-bounce with six of the juniors," barked R48 Elite 8 pro Emmett Peixoto. "The kids were so enthusiastic and were really good players too. I can remember how inspired I was as a junior to watch and meet the pros and I'm honored to be able to provide the same opportunity for today's juniors."
Special ESPN3 Junior Features

17-and-under boys singles final: Ure vs. Pimentel

Junior stars Ray Ure (IL) and Jorge Pimentel (AZ) played for the 17-and-under USHA 4-Wall Juniors National Championship live on ESPN3, showcasing the next generation of junior handball stars. Ure and Pimentel dazzled the galleries with sensational rallies in the first half of the first game, with both junior stars extending rallies with incredible grit and determination. "Those rallies in the first game were amazing, both of the guys were diving and making great shots," stated USHA Hall of Famer and Executive Director Vern Roberts.

Ure pulled away in the first game's second half and cruised in game two for the 17-and-under championship. "I've been working really hard on my game and it feels really great to win this title," stated Ure.

19-and-under Boys Singles: Walsh vs. Gaulton

The second USHA junior handball showcase match featured David Walsh (IRE) challenging Michael Gaulton (CAN) in the 19-and-under boys singles final.

Former R48 ranked pro Gaulton started well in game one, building a 7-2 lead before Walsh took over, scoring 19 of the final 23 points of the first game. Gaulton and Walsh were tied at six in game two when Walsh pulled away, using the back left corner glass to force errors and offensive opportunities and capitalizing against a quickly fading Gaulton.

"I was just gassed in there," Gaulton would later say.

"We've been here (Portland) since the 23rd just waiting to play and I'm really happy to have gotten on the court and started playing. I spent countless hours watching Killian practice in our alley (in Ireland) and he inspires me. He's living the dream winning titles in the U.S. and we all hope to reach his level."

Thank you to the USHA for the sensational collaboration with JR WPH in providing the junior handball stars with an unforgettable week in Portland.

Keep an eye out on juniorhandball.org, as new clinic opportunities and recaps pop up weekly. Want to coach a clinic or a junior handball program? Need more information regarding junior handball? The Junior WPH group spans multiple countries, continents and oceans with clinics happening daily. We can help! Contact WPH Development Director David Fink at david.fink@wphlive.tv

To enable Junior WPH to continue to host junior handball clinics and tournaments across North America with Certified WPH Coaches, the World Players of Handball invites you to make a tax-deductible donation today in supporting the growth of the game. 100% of the donations received by the WPH go towards junior handball development.  Donate on-line HERE or send your generous gifts through PayPal (HERE) or by mailing checks to:  WPH, 3561 E. Sunrise Dr. Suite 125, Tucson, AZ, 85718. Become a WPH Patreon HERE 

(Cover photo courtesy of USHA/Vern Roberts)

Posted on: January 1, 2019, by : DV