Local Pros with Juniors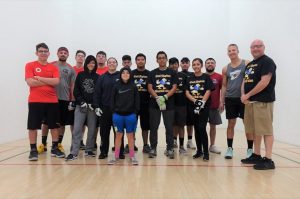 JR WPH Hosts Carl Hayden HS and FLF
Tucson, AZ, WPH Press, 2/23/19- JR WPH proudly hosted junior handball clinics and match-play for the Carl Hayden High School's flourishing junior handball program and Tucson's Fred Lewis Foundation's stars at the Tucson Racquet Club on the last weekend of the month. The juniors were treated to top handball instruction and the opportunity to make new friends.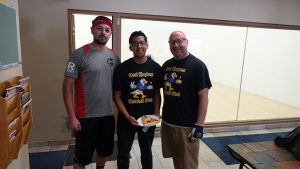 WPH Master Instructor David Fink, Fred Lewis Foundation Executive Director and Head Coach Abraham Montijo, and three-time WPH 3WallBall world champion and JR WPH coach Shorty Ruiz led the clinics for the juniors, as the junior players had the opportunity to learn from three of the game's best coaches. The juniors were split into three small groups, based on their level of experience, with each group rotating courts every 30 minutes to learn from each coach.
Coach Montijo focused on the power serve technique, teaching leverage to make the correct stroke for maximum power.
Coach Ruiz focused on the corner kill, emphasizing the importance of letting the ball drop and swinging parallel to the floor to hit the ball low.
Coach Fink discussed the warm-up, handball conditioning, diet, and cross-training for handball, providing the youngsters with a plan to become physically active and healthy through handball.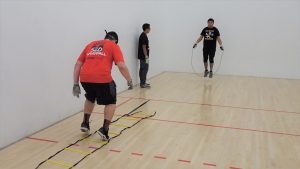 Each of the coaches played points with the junior players, giving the juniors the opportunity spar with the pros.
"This is so great for our program," stated Carl Hayden head coach and handball ambassador Chris Hogan. "Our kids need to see this great handball community in Tucson and realize they are a part of it and coming here allows them to see that. It's also great for our kids to see how seriously the pros take this sport and how much they expect of themselves. That discipline is what I am trying to instill in our kids. We look forward to working with the WPH much more in the future."
The WPH sponsored a pizza lunch following the clinics. Following the slices, the kids rushed back to the courts, with many playing for the remainder of the afternoon.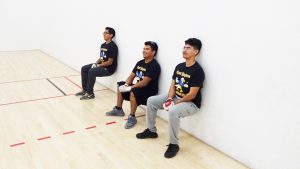 "We love having the opportunity to bring kids from different programs and different cities together to form friendships and inspire one another," stated WPH Development Director David Fink. "We really appreciate the Phoenix group making the trip and the Fred Lewis Foundation participating as well."

Thank you to Abraham Montijo and Shorty Ruiz for volunteering their time on a Saturday morning to coach and inspire the next generation of players and to Chris Hogan for organizing and driving his team from Carl Hayden High School.

Keep an eye out on juniorhandball.org, as new clinic opportunities and recaps pop up weekly. Want to coach a clinic or a junior handball program? Need more information regarding junior handball? The Junior WPH group spans multiple countries, continents and oceans with clinics happening daily. We can help! Contact WPH Development Director David Fink at david.fink@wphlive.tv

To enable Junior WPH to continue to host junior handball clinics and tournaments across North America with Certified WPH Coaches, the World Players of Handball invites you to make a tax-deductible donation today in supporting the growth of the game. 100% of the donations received by the WPH go towards junior handball development. Donate on-line HERE or send your generous gifts through PayPal (HERE) or by mailing checks to: WPH, 3602 E Ft Lowell Rd, Tucson, AZ, 85716.

Become a handball insider by enjoying never before seen videos, pro commentary, special awards, Sports Casts archives and new episodes, live broadcasts, and much more by supporting the WPH and inspiring the next generation of players through the WPH Patreon program.

Become a WPH Patreon HERE

Posted on: February 24, 2019, by : DV