JR WPH Harry Mellis Winter Classic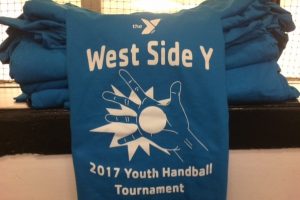 Brooklyn, NY, WPH Press, 2/6/17- JR WPH was thrilled to sponsor the 2017 Harry Mellis Winter Classics at Brooklyn's Westside YMCA, featuring junior 4-Wall Big Ball singles and doubles. Tournament directors and JR WPH Coaches Danielle Daskalakis and Sandy Ng played host to 20 junior players between the ages of 15-18, many of whom participate in the bi-weekly JR WPH sponsored Harry Mellis Junior Handball program at the Westside YMCA.
The junior play was outstanding, with the teenagers demonstrating sensational skills throughout the tournament. Gary Luck slammed in the singles and doubles with Justin Quach, while Henry Santana, Albin Tahirovic and Vincent Chen took runner-up honors in the singles and doubles, respectively.
"The performance of the junior players at this event was impressive," stated WPH Outdoor superstar Hector Velez. "With Danielle and Sandy's coaching, these juniors are developing much faster at a younger age."
Junior Results:
Boy's singles champion: Gary Luck
Boy's singles runner up: Henry Santana
Boy's doubles champions: Gary Luck and Justin Quach
Boy's doubles runner up: Albin Tahirovic and Vincent Chen
"It is great to see the WPH run another successful junior play/clinic tournament," stated R48 star and Harry Mellis Winter Classic Small Ball singles champion Stephen Cooney. "These tournaments are extremely important for the future of our sport as the stars of tomorrow are born and bred during these fun weekends. "
Coaches Daskalakis and Ng also coached a clinic for the juniors during the event, aiming supplement the 1-Wall skills of many of the juniors into the 4-Wall game.
"The WPH cannot say enough about what Danielle and Sandy do for the game and inspiring the next generation of players," stated WPH Youth Donor and Development Director David Fink. "In addition to being handball role models and ambassadors worldwide, Danielle and Sandy spend countless hours each month mentoring and coaching junior players in the JR WPH Harry Mellis Program in Brooklyn, providing opportunities for young people to develop life skills through handball. Thank you!"
The Harry Mellis Winter Classics also featured 4-Wall Open Small Ball and Big Ball brackets, headlined by Harry Mellis junior stars, Race 4 Eight pro Stephen Cooney and one of New York's top 4-Wall Big Ball players Ignazio Accardi. Cooney captured the small ball singles against WPH historian Babalola Ajisafe, Accardi grabbed the big ball singles against Robert Ortega, and Harry Mellis' Jessenia Garate teamed with Gabriel Carbuccia to win the Mixed Doubles against 1-Wall stars Allan Sanchez and BeeBee Garcia.
Open Results:

Small Ball singles champion: Stephen Cooney

Small Ball singles runner-up: Babalola Ajisafe

Big Ball singles champion: Ignazio Accardi

Big Ball singles runner-up: Robert Ortega

Mixed Doubles champions: Jessenia Garate/Gabriel Carbuccia

Mixed Doubles finalists: Allan Sanchez/BeeBee Garcia.

Thank you to tournament directors Danielle Daskalakis and Sandy Ng for hosting this great event.

Keep an eye out on juniorhandball.org, as new clinic opportunities and recaps pop up weekly. Want to coach a clinic or a junior handball program? Need more information regarding junior handball? The Junior WPH group spans multiple countries, continents and oceans with clinics happening daily. We can help! Contact WPH Development Director David Fink at fink@race4eight.com

To enable Junior WPH to continue to host junior handball clinics and tournaments across North America with Certified WPH Coaches, the World Players of Handball invites you to make a tax-deductible donation today in supporting the growth of the game. 100% of the donations received by the WPH go towards junior handball development.  Donate on-line here, or send your generous gifts through PayPal (extremehandball@cs.com) or by mailing checks to:  WPH, 3561 E. Sunrise Dr. Suite 125, Tucson, AZ, 85718.

Posted on: February 7, 2017, by : DV