JR WPH Goes to Tempe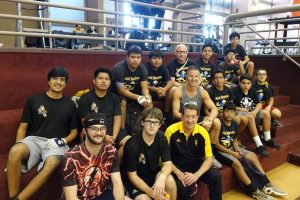 Tempe, AZ, WPH Press, 12/8/18- JR WPH traveled 100 miles west from the WPH headquarters in Tucson to Arizona State University in Tempe to host collegiate and high school handball clinics and a special Q&A session at ASU's 2018 Homework & Handball event at the Sun Devil Fitness Complex.
JR WPH Clinics
JR WPH coached multiple clinics at Homework in Handball for the Arizona State University Handball Team and Phoenix's Carl Hayden High School Handball Team, with the players separated into groups of 4-5 by handball experience. The clinic lessons were tailored to each group's level of play, with the players learning the "Dave Chapman Line Drill," the power serve, the back wall return, the return of serve, and a number of drills to reinforce the proper stroke and shot selection.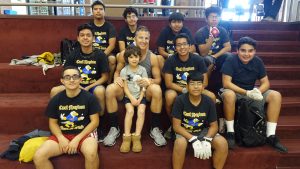 "We really appreciated all of the lessons and we're excited to start practicing all of the new drills and fundamentals while the ideas are fresh in our minds," stated Carl Hayden High School Head Handball Coach Chris Hogan.
JR WPH Q&A
Following the clinics, all of the junior and collegiate players and coaches gathered for a special JR WPH Q&A hosted by WPH Master Instructor and R48 #5 David Fink. The youngsters were eager to understand all things handball, enthusiastically discussing cross-training for handball, hitting power serves with spin, the toughest players to play on the R48, and much more.
"I've never seen the kids so talkative," stated ASU Head Handball Coach Dan Willeford. "They were really absorbing everything."
"Coach Dan Willeford (ASU) and Coach Chris Hogen (Carl Hayden High School) are doing such a fantastic job introducing handball and developing passionate young handball players," stated WPH Development Director David Fink. "I've never seen a more enthusiastic group of young players so interested in learning about the game. JR WPH is thrilled to be able to supplement the lessons that Coach Willeford and Coach Hogan are teaching on a daily basis. Phoenix junior handball is really booming!"
Keep an eye out on juniorhandball.org, as new clinic opportunities and recaps pop up weekly. Want to coach a clinic or a junior handball program? Need more information regarding junior handball? The Junior WPH group spans multiple countries, continents and oceans with clinics happening daily. We can help! Contact WPH Development Director David Fink at david.fink@wphlive.tv

To enable Junior WPH to continue to host junior handball clinics and tournaments across North America with Certified WPH Coaches, the World Players of Handball invites you to make a tax-deductible donation today in supporting the growth of the game. 100% of the donations received by the WPH go towards junior handball development. Donate on-line here, or send your generous gifts through PayPal (here) or by mailing checks to: WPH, 3561 E. Sunrise Dr. Suite 125, Tucson, AZ, 85718.

Posted on: December 9, 2018, by : DV