JR WPH @ Craig Park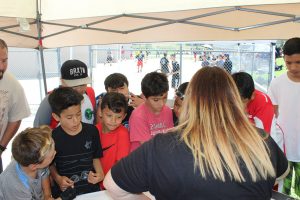 Fullerton, CA, WPH Press, 6/3/17- JR WPH proudly hosted the JR WPH Mega Clinic and Skills Competition, followed by an exciting JR WPH singles tournament at the 2017 WPH Outdoor Fullerton Hotshots event on the first weekend in June. Check out all of the details from Fullerton below.
JR WPH Mega Clinic and Skills Competition
JR WPH proudly hosted a Junior Mega Clinic and Skills Competition for the fourth consecutive summer in Southern California, featuring more than three dozen junior handball players learning from four of the top WPH Outdoor pros. WPH Outdoor pros Sal Duenas, Kevin P. Gonzales, Pedro "Hershey" Carmona and Juan Santos split the youngsters into two groups, with Coaches Duenas and Carmona taking half the group and Coaches Gonzalez and Santos taking the other half. After watching demonstrations from the top pros, the youngsters practiced their kill shots with both hands, followed by service returns and singles and doubles points with the pros. The youngsters experienced the thrill of a lifetime, playing against their heroes and even winning some rallies!
"Any time I have an opportunity to work with the kids I'm all in," stated Coach Duenas. "The kids are the future of our sport and I love being on the court with them and helping them improve.
Thank you to Sal Duenas, Juan Santos, Kevin P. Gonzalez and Pedro Carmona for working with the youngsters and setting an excellent example for the youngsters to follow.
JR WPH Singles
Juniors from San Diego, Orange County, L.A., and Stockton, CA competed in five junior singles brackets, with the youngsters demonstrating exceptional skill and sportsmanship on a spectacular June afternoon at Craig Park in Fullerton, CA. Each bracket was enthusiastically contested, with a number of the one game matches to 21 decided by less than three points.
In the 10-and-under bracket, Xavier Flores and Jose Arellano demonstrated skills far beyond their years in a scintillating battle. Flores was able to edge his rival, in large part due to a six-point streak in the middle of the match.
Abraham Espindola outlasted Moises Barrientes in the 12-and-under final, utilizing sensational ball control to clinch the title.
Current 13-and-under USHA national 4-Wall champion David Sanchez was impressive in defeating Ferman Victoria in the 15-and-under final, demonstrating his two –handed attack en route to another major junior title.
JR WPH star Jesus Mendez continued to excel at JR WPH events, ousting Michael Bautista in the 16-and-under final. Mendez captured his second trophy in winning the 18-and-under bracket, defeating Salvador Diaz in a high-level final. Mendez continues to improve and will soon by a force in the A division.
10-and under
Champion: Xavier Flores
Finalist: Jose Arellanos
12-and under
Champion: Abraham Espindola
Finalist: Moises Barrientes
14-and under
Champion: David Sanchez
Finalist: Ferman Victoria
16-and under
Champion: Jesus Mendez
Finalist: Michael Bautista
18-and under
Champion: Jesus Mendez
Finalist: Salvador Diaz
Keep an eye out on juniorhandball.org, as new clinic opportunities and recaps pop up weekly. Want to coach a clinic or a junior handball program? Need more information regarding junior handball? The Junior WPH group spans multiple countries, continents and oceans with clinics happening daily. We can help! Contact WPH Development Director David Fink atfink@race4eight.com

To enable Junior WPH to continue to host junior handball clinics and tournaments across North America with Certified WPH Coaches, the World Players of Handball invites you to make a tax-deductible donation today in supporting the growth of the game. 100% of the donations received by the WPH go towards junior handball development.  Donate on-line here, or send your generous gifts through PayPal (extremehandball@cs.com) or by mailing checks to:  WPH, 3561 E. Sunrise Dr. Suite 125, Tucson, AZ, 85718.

Posted on: June 6, 2017, by : DV