Jr WPH Coaches Summer Camp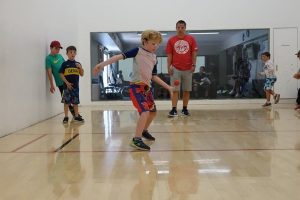 Tucson, AZ, WPH Press, 8/3/18– JR WPH proudly led the handball coaching at the Tucson Racquet Club All Sports Summer Camp for the 6th consecutive summer, teaching weekly handball clinics for more than 700 teens and preteens between the ages of 7 & 16 throughout the 10-week summer camp. The youngsters learned the various handball strokes throughout the 10-week summer camp, as well as cross-training, conditioning, and hand-eye coordination exercises to improve their overall fitness.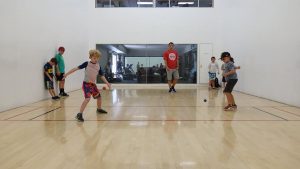 "I've coached every sport there is throughout my 40-year career as a physical education teacher and coach and there is no sport that forces you to use both sides of your body and mind like handball," stated TRC Summer Camp director Charlie "Coach" Anderson. "I love having the JR WPH Coaches as part of the camp because they are excellent at teaching the sport and organizing the lessons and playing handball is a great experience for the kids."
"The kids really improved each week and it was a lot of fun to watch the kids rallying and playing handball games," stated JR WPH TRC Summer Camp coach Spence Hatcher."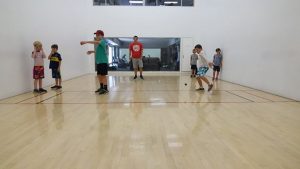 "We're extremely proud of what we've done this summer and for the past six summers at the TRC All Sports Summer Camp," stated WPH Development Director David Fink. "Our coaches work extremely hard to provide the best possible experience on the handball court for the TRC Summer Camp youngsters. I really enjoy watching the kids from as young as seven to 16 learning and developing their skills on the handball court, and most importantly, having fun on the handball court."
Keep an eye out on juniorhandball.org, as new clinic opportunities and recaps pop up weekly. Want to coach a clinic or a junior handball program? Need more information regarding junior handball?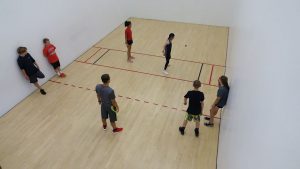 The Junior WPH group spans multiple countries, continents and oceans with clinics happening daily. We can help! Contact WPH Development Director David Fink at david.fink@wphlive.tv

To enable Junior WPH to continue to host junior handball clinics and tournaments across North America with Certified WPH Coaches, the World Players of Handball invites you to make a tax-deductible donation today in supporting the growth of the game. 100% of the donations received by the WPH go towards junior handball development. Donate on-line here, or send your generous gifts through PayPal (extremehandball@cs.com) or by mailing checks to: WPH, 3561 E. Sunrise Dr. Suite 125, Tucson, AZ, 85718.

Posted on: August 3, 2018, by : DV