JR WPH Clinic in NOLA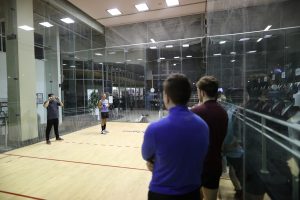 WPH Master Instructor David Fink and Race4Eight Star Lucho Cordova held a Junior WPH Clinic for a handful of collegiate and junior handball players from around the United States., Mexico, and Canada at the 2020 New Orleans Mardi Gras R48LTE/WR48. The pros discussed cross-training, proper warm up, tournament preparation, tournament diet, the power serve and the fly kill.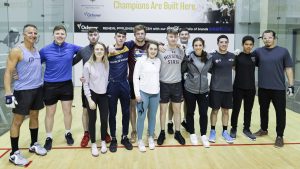 "These kids made this event and were all the MVP's of New Orleans," stated Fink. "The Irish traveled 4,200 miles to be here, while the other juniors drove up to 15 hours to be a part of this event. These kids are everything that makes our game great. Not only are all of them phenomenal world class players, but they demonstrate wonderful sportsmanship, amazing effort on the court, and are willing to referee, move boxes, and do whatever they can to help the event. Lucho and I were thrilled to be able to answer their questions and share some swing tips to hopefully make these great kids better players."
More than half of the players in the 2020 New Orleans Mardi Gras R48LTE/WR48 were under the age of 24!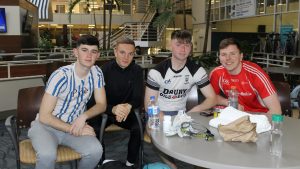 Keep an eye out on juniorhandball.org, as new clinic opportunities and recaps pop up weekly. Want to coach a clinic or a junior handball program? Need more information regarding junior handball? The Junior WPH group spans multiple countries, continents and oceans with clinics happening daily. We can help! Contact WPH Development Director David Fink at david.fink@wphlive.tv

To enable Junior WPH to continue to host junior handball clinics and tournaments across North America with Certified WPH Coaches, the World Players of Handball invites you to make a tax-deductible donation today in supporting the growth of the game. 100% of the donations received by the WPH go towards junior handball development. Donate on-line HERE or send your generous gifts through PayPal (HERE) or by mailing checks to: WPH, 3602 E. Ft. Lowell Dr., Tucson, AZ, 85716.

Become a handball insider by enjoying never before seen videos, pro commentary, special awards, Sports Casts archives and new episodes, live broadcasts, and much more by supporting the WPH and inspiring the next generation of players through the WPH Patreon program.

Become a WPH Patreon HERE

Posted on: February 17, 2020, by : DV