JR WPH Clinic at the '19 3WB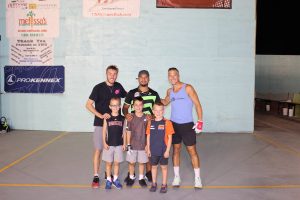 Las Vegas, NV, WPH Press, 9/29/19 – JR WPH and 3WB were thrilled to present the JR WPH 3WB Jr Handball Clinic at the 2019 3WB Outdoor World Championships, providing junior ballers with the opportunity to learn from handball's top coaches and players at the epicenter of outdoor court sports at THE STRAT HOTEL.
Friday night at the 2019 3WB belonged to the juniors, as nearly a dozen seasoned and new junior handball players took to 3WB's 1-Wall courts. WPH Development Director and Master Instructor David Fink led a group of juniors in King of the Court 1-Wall doubles, followed by a target hitting competition for a 3WB shirt.
Fink then recruited current national small ball and big ball champion Timbo Gonzalez and 1-Wall star Josef Gotsch to play King of the Court doubles with another group of eager youngsters. "This is awesome and my boys and their friends are completely hooked," beamed the father of two of the junior players. "These boys are all soccer players and they really picked up the game quickly. I can't get them off the courts now!"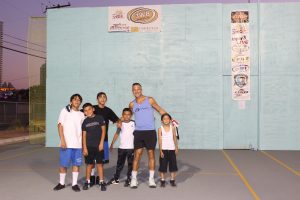 The King of the Court doubles featured multiple rallies of 10+ shots, as the juniors between the ages of 8-13 relished their court time with the game's best players.

"We always love working with the WPH and we were thrilled to get the kids involved in this clinic," stated 3WB founder and tournament director Mike Coulter. "Our goal is to make sure that everyone comes to the 3WB and has a great time and this clinic ensured that the kids at the event had an unforgettable experience at this year's event."

"The 3WB Championships is the highlight of the outdoor season and JR WPH was extremely excited for the game's top players to teach and play alongside the junior players in the 2019 3WB clinic," stated WPH Development Director and Master WPH Instructor David Fink. "The pro players love having the opportunity to teach the next generation and the feeling is always mutual."

Keep an eye out on juniorhandball.org, as new clinic opportunities and recaps pop up weekly. Want to coach a clinic or a junior handball program? Need more information regarding junior handball? The Junior WPH group spans multiple countries, continents and oceans with clinics happening daily. We can help! Contact WPH Development Director David Fink at david.fink@wphlive.tv

To enable Junior WPH to continue to host junior handball clinics and tournaments across North America with Certified WPH Coaches, the World Players of Handball invites you to make a tax-deductible donation today in supporting the growth of the game. 100% of the donations received by the WPH go towards junior handball development. Donate on-line HERE or send your generous gifts through PayPal (HERE) or by mailing checks to: WPH, 3561 E. Sunrise Dr. Suite 125, Tucson, AZ, 85718.

Become a handball insider by enjoying never before seen videos, pro commentary, special awards, Sports Casts archives and new episodes, live broadcasts, and much more by supporting the WPH and inspiring the next generation of players through the WPH Patreon program.

Become a WPH Patreon HERE

Posted on: September 30, 2019, by : DV