JR WPH at the Tucson Pre-Qual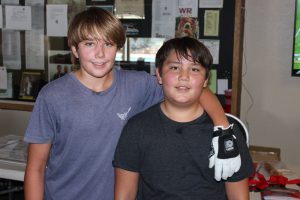 Tucson, Arizona, WPH Press, 09/07/2019- The juniors stole the show at the 2019 World Players of Handball Foundation's R48 Pre-Qualifier, playing up to three matches each, taking clinics, and inspiring the pro players and fans with their enthusiasm and skills.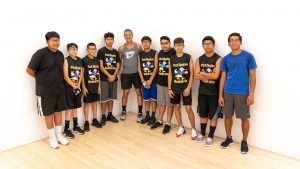 Junior Singles
28 junior handball players from Tucson's Fred Lewis Foundation and Phoenix's Carl Hayden High School were the highlight of the event, as the youngsters showcased the next generation of the sport. Many of the juniors were playing in their first 4-Wall tournament, while multiple-time junior national champions Ayden Brule and Sophia Della Croce set the bar for the aspiring youngsters.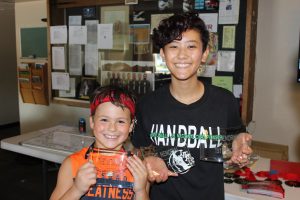 Sophie Della Croce dominated Team Carl Hayden and Team FLF en route to the 17-and-under title. SDC was never seriously threatened in her four matches, including an impressive sweep against 10+ time junior national champion Ayden Brule and the FLF's Andres Sandoval in the final. SDC added a slam in the Women's Singles, defeating the Pena sisters in the round robin.
Luke Lambert won the 13-and-under two-bounce singles with back-to-back tiebreaker wins against Armani Chavez and Diego Valencia. Lambert, Chavez, and Valencia were the talk of the tournament, thrilling galleries with their hustle, great swings, and great shot making. "These are future top handballers," barked WPH mega donor Doug Clark.
JR WPH Clinic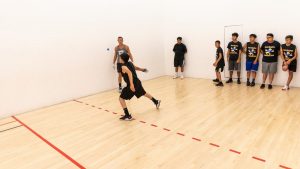 WPH Master Instructor David Fink led Carl Hayden's junior handball team through a series of back wall drills to develop the proper footwork and swing to develop back wall efficiency. Despite limited 4-Wall experience, Team Carl Hayden showed tremendous promise and an aptitude for learning in the clinic. "We are so grateful to the WPH for the support and attention," boasted Carl Hayden High School Head Handball Coach Chris Hogan. "The kids could not stop talking about their experience on their way back to Phoenix!"

Keep an eye out on juniorhandball.org, as new clinic opportunities and recaps pop up weekly. Want to coach a clinic or a junior handball program? Need more information regarding junior handball? The Junior WPH group spans multiple countries, continents and oceans with clinics happening daily. We can help! Contact WPH Development Director David Fink at david.fink@wphlive.tv

To enable Junior WPH to continue to host junior handball clinics and tournaments across North America with Certified WPH Coaches, the World Players of Handball invites you to make a tax-deductible donation today in supporting the growth of the game. 100% of the donations received by the WPH go towards junior handball development. Donate on-line HERE or send your generous gifts through PayPal (HERE) or by mailing checks to: WPH, 3561 E. Sunrise Dr. Suite 125, Tucson, AZ, 85718.

Become a handball insider by enjoying never before seen videos, pro commentary, special awards, Sports Casts archives and new episodes, live broadcasts, and much more by supporting the WPH and inspiring the next generation of players through the WPH Patreon program.

Become a WPH Patreon HERE

Posted on: September 8, 2019, by : DV