JR WPH at Khalsa School '19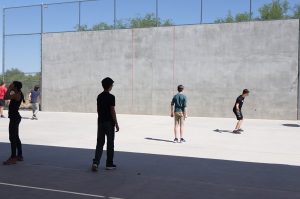 Tucson, AZ, WPH Press, 5/6/19- JR WPH proudly completed weekly winter and spring junior handball clinics at Tucson's renowned Khalsa School, home to the best 1-Wall court facility on the west coast. JR WPH Coaches introduced handball to every seventh and eighth grade student at Khalsa School during the 2019 winter and spring handball initiative, breaking students into groups of 6-8 per one-hour session.
After a dynamic warm-up, the students progressively worked towards rallying, first throwing the ball with both hands, hitting the ball with both hands, serving, hitting the ball back to the wall, playing cooperative rallies, and eventually playing points. While progressively learning the sport, students were taught the 1-Wall rules and handball trivia, with the emphasis always on having fun and skill-building.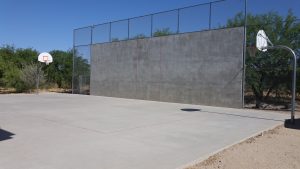 "By the end of each session, the students were not only rallying and having a great time, but all of them could tell you that Killian Carroll and Catriona Casey are the number one handball players in the world," stated JR WPH Master Instructor David Fink. "That's really cool!"
"It was really fun being out here with these kids," stated JR WPH Coach and University of Arizona engineering major Spence Hatcher. "All of the kids gave their best effort and a lot of them were rallying really well by the end of the sessions."
"The middle schoolers have really been enjoying the handball instruction," stated Khalsa School director Nirvair Khalsa. "Thank you to the WPH for taking the time to come out and teach them."
JR WPH will kickoff an exciting summer of junior handball coaching, complete with summer camps and collaborative junior handball coaching efforts with the USHA. Stay tuned!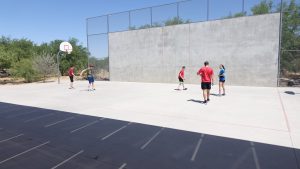 Keep an eye out on juniorhandball.org, as new clinic opportunities and recaps pop up weekly. Want to coach a clinic or a junior handball program? Need more information regarding junior handball? The Junior WPH group spans multiple countries, continents and oceans with clinics happening daily. We can help! Contact WPH Development Director David Fink at david.fink@wphlive.tv

To enable Junior WPH to continue to host junior handball clinics and tournaments across North America with Certified WPH Coaches, the World Players of Handball invites you to make a tax-deductible donation today in supporting the growth of the game. 100% of the donations received by the WPH go towards junior handball development. Donate on-line HERE or send your generous gifts through PayPal (HERE) or by mailing checks to: WPH, 3561 E. Sunrise Dr. Suite 125, Tucson, AZ, 85718.

Become a handball insider by enjoying never before seen videos, pro commentary, special awards, Sports Casts archives and new episodes, live broadcasts, and much more by supporting the WPH and inspiring the next generation of players through the WPH Patreon program.

Become a WPH Patreon HERE

Posted on: May 4, 2019, by : DV