JR WPH at Carl Hayden H.S.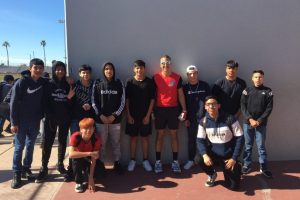 Phoenix, AZ, WPH Press, February 1st, 2020- Junior WPH was thrilled to head to Phoenix's Carl Hayden High School to conduct clinics with the vibrant Hayden High School student handball community that play during two main Hayden High School lunch periods. WPH Master Instructor David Fink started each of the gaming-sessions with a brief instructional, focusing on the strategy and placement of the serve, the technique of hitting kill shots, and the benefits of using the side walls. Following the instruction, the high school students were eager to test their skills in singles and doubles against Coach Fink. Coach Fink played close to 30 combined games between the two lunch periods.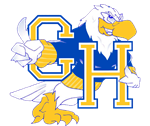 "Spending the afternoon at Hayden High School was a truly incredible experience," stated David Fink. "As a handballer, there is nothing more exciting and inspiring than seeing young people playing the game. Hayden High School boasts five 3-Wall courts, all filled with handball during the two Hayden lunch periods. The kids had wonderful attitudes and were all enjoying having the opportunity to play on a beautiful Arizona afternoon. Thank you to Coach Chris Hogan, who is doing an outstanding job recruiting, inspiring, coaching, and mentoring so many Hayden students. This afternoon at Hayden High School was truly one of my favorite experiences in handball."
"I would like to thank David Fink, the 5th ranked handball player in the world, for stopping by Carl Hayden, during both lunches," stated Carl Hayden head handball coach and ambassador Chris Hogan, who played several of the lunch period games against Coach Fink. "Mr. Fink came to see what Carl Hayden handball was all about, and to meet with some of our students who play. These students took the opportunity to speak with Mr. Fink, and appreciated his tips and/or suggestion about their game. The students wanted Mr. Fink to return the next day!"
JR WPH is proud to support the Carl Hayden Handball Program, hosting the players several times each year at Tucson events and providing instruction and support.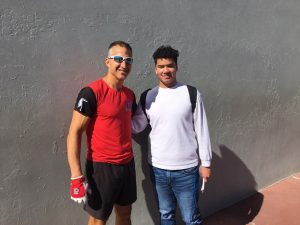 Keep an eye out on juniorhandball.org, as new clinic opportunities and recaps pop up weekly. Want to coach a clinic or a junior handball program? Need more information regarding junior handball? The Junior WPH group spans multiple countries, continents and oceans with clinics happening daily. We can help! Contact WPH Development Director David Fink at david.fink@wphlive.tv

To enable Junior WPH to continue to host junior handball clinics and tournaments across North America with Certified WPH Coaches, the World Players of Handball invites you to make a tax-deductible donation today in supporting the growth of the game. 100% of the donations received by the WPH go towards junior handball development. Donate on-line HERE or send your generous gifts through PayPal (HERE) or by mailing checks to: WPH, 3602 E Ft Lowell Rd, Tucson, AZ, 85716.

Become a handball insider by enjoying never before seen videos, pro commentary, special awards, Sports Casts archives and new episodes, live broadcasts, and much more by supporting the WPH and inspiring the next generation of players through the WPH Patreon program.

Become a WPH Patreon HERE

Posted on: February 2, 2020, by : DV