JR WPH @ Argo Classic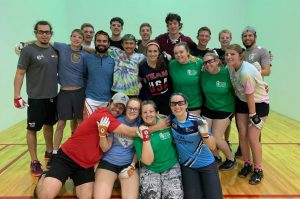 Pensacola, FL, WPH Press, Jan 13, 2019 – The Flying Cordovas held multiple clinics at the '19 WPH – USHA Argo Collegiate Classic, as R48 #3 Danos Cordova & R48 #4 Luis Cordova divided 18 collegiate players from the University of West Florida, Missouri State University, the University of Minnesota, the University of Texas, and Lake Forest College into small groups to discuss handball fundamentals and strategies.
"Danos taught the fly kill and off-hand techniques, like throwing properly by turning your torso through with your opposite hand," stated WPH superstar reporter Kyra "K3" Vidas. "Lucho focused on the ceiling fist ball and off-hand development."
"The clinics went really well," stated 2018 R48 8 Portland champion and three-time R48 finalist Danos. "We split the players into advanced and beginner groups and all of the groups had a great time."
"I really enjoyed having the pros come out and helping with the clinics," stated UWF's club officer, Ashley Gilliam
"I'm proud of the work the Handball Club officers put into making this tournament possible," stated UWF handball program coach, Michael Morgan. "They put in a lot of work in a very short time. Having Luis and Daniel come out is always a treat for our players and spectators. Seeing them has definitely inspired our players even more to prepare for the Collegiate Nationals next month. A big thank you to the WPH for their continued support, we are looking forward to a bigger and better tournament next year."
"I'm excited that this year's tournament brought in the most players we've ever had," stated UWF handball club president, Courtney Butler.
"The Flying Cordovas are handball rock stars and the WPH is thrilled to have had Lucho and Danos kickoff the 2019 JR WPH Road Show at UWF," barked WPH Development Director David Fink. "Not only are the Cordova brothers human highlight reels, but they are also two of the game's greatest instructors, as these handball stars have a tremendous grasp of the strategies and techniques to help players of all levels."
Thank you to the WPH and USHA for providing handball equipment and supplies for the Argo Classic and the UWF Handball Team, as well as providing world-class instruction and certification from Gary Cruz and the Flying Cordovas.
Keep an eye out on juniorhandball.org, as new clinic opportunities and recaps pop up weekly. Want to coach a clinic or a junior handball program? Need more information regarding junior handball? The Junior WPH group spans multiple countries, continents and oceans with clinics happening daily. We can help! Contact WPH Development Director David Fink at david.fink@wphlive.tv

To enable Junior WPH to continue to host junior handball clinics and tournaments across North America with Certified WPH Coaches, the World Players of Handball invites you to make a tax-deductible donation today in supporting the growth of the game. 100% of the donations received by the WPH go towards junior handball development. Donate on-line HERE or send your generous gifts through PayPal (HERE) or by mailing checks to: WPH, 3561 E. Sunrise Dr. Suite 125, Tucson, AZ, 85718.

Support the WPH Patreon program and enjoy never before seen videos, pro commentary, special awards, Sports Casts archives and new episodes, live broadcasts, and much more by becoming a WPH Patreon HERE

Posted on: January 14, 2019, by : DV