JR King of the Courts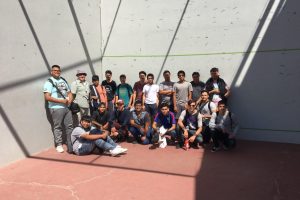 Phoenix, AZ, WPH Press, 4/3/19- Carl Hayden High School's flourishing junior handball program hosted its first "Hayden JR King of the Courts" on the last weekend in March, with Carl Hayden's enthusiastic handball team members seeking to become the first Carl Hayden High School handball "King."
Play kicked off on Saturday, with all of Carl Hayden's 3-Wall courts filled for the first King of the Courts. "The action was so competitive, those players who lost immediately asked for a consolation bracket," stated Carl Hayden Head Handball Coach Chris Hogan. "The winning players were already asking to have the pizza ordered for their Advisory, the confidence!"
Uziel Rodriguez advanced to the King of the Courts final, overcoming Chris Cedeno in a sensational 16-14 one-game match to challenge Carl Hayden's top star Rodrigo Silva for the crown. "Uziel's and Chris' match was a wonderful exchange of good handball," beamed Coach Hogan.
The final was dubbed a David vs. Goliath, Uziel vs. Rodrigo. Rising handball scholar, Uziel, entered the match believing he had better odds playing the Power Ball than beating Hayden Handball Legend, Rodrigo Silva. The early play was a classic duel of back and forth exchange of kill shots and eye-popping rallies. Uziel would not let Rodrigo out of his sight, staying within striking distance at 1-3, 3-5, and even taking the lead at 8-7. The lack of experience, however, was eventually revealed. Rodrigo tied the match at eight and never looked back, capitalizing on Uziel's mistakes to close out the match, 15-8.
"Though Uziel tried to fight back, he was running out of "rocks" and Rodrigo would not allow him to score another point," stated Coach Hogan. "It was a very good game and a learning experience for Uziel, but a "King" had to be crowned! I want to congratulate Rodrigo Silva as our first Hayden Jr. King of the Court Champion."
With Rodrigo and Uziel making it to the finals, they both earned a pizza party for their respective Advisory's. The Carl Hayden Handball Club wants to thank you everyone for the donations, support, and continued encouragement. Have a great week!!
Pictures and recap courtesy of Chris Hogan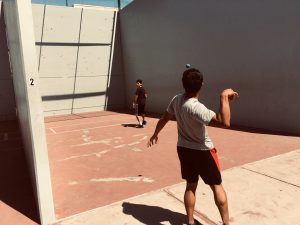 Keep an eye out on juniorhandball.org, as new clinic opportunities and recaps pop up weekly. Want to coach a clinic or a junior handball program? Need more information regarding junior handball? The Junior WPH group spans multiple countries, continents and oceans with clinics happening daily. We can help! Contact WPH Development Director David Fink at david.fink@wphlive.tv

To enable Junior WPH to continue to host junior handball clinics and tournaments across North America with Certified WPH Coaches, the World Players of Handball invites you to make a tax-deductible donation today in supporting the growth of the game. 100% of the donations received by the WPH go towards junior handball development. Donate on-line HERE or send your generous gifts through PayPal (HERE) or by mailing checks to: WPH, 3561 E. Sunrise Dr. Suite 125, Tucson, AZ, 85718.

Become a handball insider by enjoying never before seen videos, pro commentary, special awards, Sports Casts archives and new episodes, live broadcasts, and much more by supporting the WPH and inspiring the next generation of players through the WPH Patreon program.

Become a WPH Patreon HERE

Posted on: April 3, 2019, by : DV