JR Handball Flourishing in PHX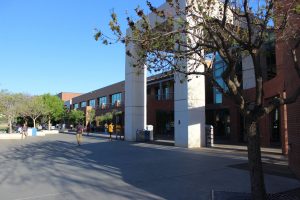 Phoenix, AZ, Press, Sept 15th, 2017 – Jr handball is thriving in Phoenix, with a flourishing collegiate program at Arizona State Univ and a rapidly developing high school handball program.
Head Handball Coach, Dan Willeford, leads the Sun Devils in weekly handball practices, as the squad prepares itself for the USHA's Collegiate Nationals.
Coach Willeford leads his team to weekend tournaments in Arizona and beyond. Six Sun Devil stars recently traveled to the Tucson R48 Pre Qualifier, where each of the collegiate players competed against the best players in the Southwest. In addition to coaching the Sun Devils team, Coach Willeford leads a one-credit handball course, attracting up to 30 new players each semester.
"JR WPH was fortunate to hold a clinic for Coach Willeford's ASU team and handball class last spring and the amount of interest and enthusiasm for handball at ASU is truly inspiring," revealed WPH Development Director David Fink. "Coach Willeford's tremendous efforts at ASU are making a huge difference in growing the sport."

When Coach Willeford is not coaching his ASU handball team and teaching handball classes at the university, Coach Willeford is coaching and organizing 3-Wall high school handball clinics and tournaments in Phoenix.

"We just held a dual meet between Camelback High School and Hayden High School with 24 combined players," stated Coach Willeford. "This was the first high school matchup of the school year. The high school coaches did a great job with their myriad duties: coordinating with their Athletic Directors, reserving the courts, gathering permission slips, arranging transportation, defining a competition format, teaching their students the techniques & rules, etc. It was an outstanding outreach event for Arizona State University, too.  Members of the Sun Devil Handball Club were in attendance to support the players and help with the event.  Two of these Sun Devils were alums for Camelback HS and still have lots of friends The Sun Devils handed out Access ASU information so that high school students know what is required to gain admission to ASU.  No classes were missed by any of the students — ASU or high school! I'd like to point out the people who made the first high school dual meet a success. Out of the goodness of their hearts, they put in a lot of effort to benefit their students. In one way or another, they do this every day. I'd like to specifically thank Kathryn Wagner – Camelback sponsor, Jim Reitmyer – Camelback coach, Steve Kuipers – Camelback AD, Chris Hogan – Carl Hayden sponsor, coach, Martin Gracia – Carl Hayden coach, Ben Fernandez Carl Hayden coach, and Chris Oglesby – Carl Hayden AD."

Coach Willeford also visited Phoenix's South Mountain High School this week, talked with the Athletic Director, and coached 3-Wall handball during the South Mountain High School lunch break. "The Jaguars had already heard of the CHHS vs CBHS dual-meet," boasted Coach Willeford. "They want in on the action!  A teacher has agreed to be the sponsor and I was invited back to campus next week to help with the next steps."

Phoenix's Carl Hayden High School will be holding a one-day Big Ball tournament on Saturday, November 18. If you're in Phoenix or can make it to Phoenix, don't miss it! To view the Carl Hayden tournament application, click HERE

Keep an eye out on juniorhandball.org, as new clinic opportunities and recaps pop up weekly. Want to coach a clinic or a junior handball program? Need more information regarding junior handball? The Junior WPH group spans multiple countries, continents and oceans with clinics happening daily. We can help! Contact WPH Development Director David Fink at fink@race4eight.com

To enable Junior WPH to continue to host junior handball clinics and tournaments across North America with Certified WPH Coaches, the World Players of Handball invites you to make a tax-deductible donation today in supporting the growth of the game. 100% of the donations received by the WPH go towards junior handball development.  Donate on-line here, or send your generous gifts through PayPal (extremehandball@cs.com) or by mailing checks to:  WPH, 3561 E. Sunrise Dr. Suite 125, Tucson, AZ, 85718.

Posted on: September 15, 2017, by : DV