Hope in Handball in Harrisburg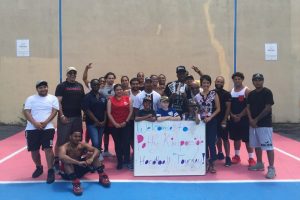 WPH Press, July 30, 2018- Now in its tenth year, the Hope in Handball youth initiative continues to inspire young people to develop life skills, discipline, camaraderie, friendships, and an active lifestyle through handball in Eastern PA. Led by David Botero, Hope in Handball has provided life skills for his Jr members and continues to inspire future groups.
Hope in Handball recently hosted a one-day 1-Wall tournament on the newly renovated Evergreen Street Court in Harrisburg to encourage new players to handball. "This tournament was an invitation for the community to come out, enjoy handball whether you're playing it or watching it, have fun with the family, and showcase and demonstrate your skills on the court," stated Hope in Handball founder David Botero, speaking to CBS 21 News. "We have a lot of talented players in the Harrisburg area."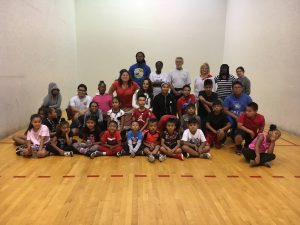 Story on Hope in Handball on CBS 21 News HERE
Hope in Handball also hosted a summer camp in July, in which Hope in Handball current team members and recent graduates served as coaches and mentors to youngsters playing handball for the first time. "There was a lot of interest amongst the new players to continue playing," stated Botero. "Our coaches used the WPH Coaching Manual for drills and ideas. Eight kids want to continue coming to our weekly program, planting those seeds!"
In addition to hosting community-building tournaments and summer camps, Hope in Handball meets once a week for handball practice at the Harrisburg YMCA.
The WPH is proud to have hosted Hope in Handball at several tournaments in PA, as well as providing instruction, equipment, and coaching training to the sensational Harrisburg youth development program. "I have been fortunate to have known Dave Botero for nearly 10 years and I am always overwhelmed and inspired by his passion for handball and developing the next generation of community leaders," stated WPH Development Director David Fink. "Dave is truly one of the best ambassadors in handball and our sport is so fortunate that Dave is involved in such a major way. Thank you to Dave and all of the Hope in Handball mentors, players, and volunteers for making such a positive difference through handball in Harrisburg."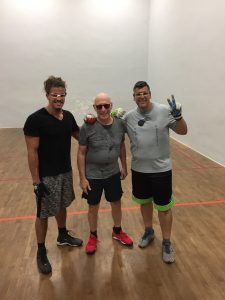 Pictured: Hope in Handball 1-Wall tournament on the Evergreen Street Court, Hope in Handball weekly YMCA clinics, Hope in Handball founder Dave Botero picking up a game with WPH mega donor Rodney Fink. Photos courtesy of Hope in Handball and Dave Botero.

Keep an eye out on juniorhandball.org, as new clinic opportunities and recaps pop up weekly. Want to coach a clinic or a junior handball program? Need more information regarding junior handball? The Junior WPH group spans multiple countries, continents and oceans with clinics happening daily. We can help! Contact WPH Development Director David Fink at david.fink@wphlive.tv

To enable Junior WPH to continue to host junior handball clinics and tournaments across North America with Certified WPH Coaches, the World Players of Handball invites you to make a tax-deductible donation today in supporting the growth of the game. 100% of the donations received by the WPH go towards junior handball development. Donate on-line here, or send your generous gifts through PayPal (extremehandball@cs.com) or by mailing checks to: WPH, 3561 E. Sunrise Dr. Suite 125, Tucson, AZ, 85718.

Posted on: July 31, 2018, by : DV