Coach Peixoto Leads the Way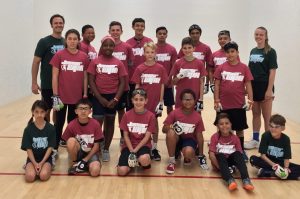 San Francisco, CA, WPH Press, 8/19/17- The 2nd Annual Handball JR Camp at the Olympic Club was a major success!
At this 4 day intensive Jr camp, Olympic Club Handball Coach and WPH Master Instructor, Emmett Peixoto, coached 17 junior campers of all levels of play. The camp included a focused instruction on the sidearm, overhand, and underhand swings, drills for foot-speed, back-wall, and kill shots, and guidance on basic handball strategy. Each day began with stretches and the David Chapman Warm-up Routine and culminated in a mini handball tournament, in which all of the kids played in front of each other and cheered on their fellow campers.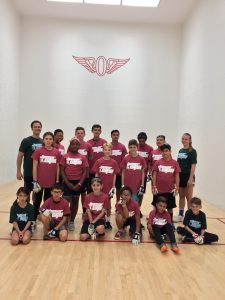 "It was a lot of fun," exclaimed Amaya Ruiz after being asked what she thought of the camp, "I hope I can come back next year." By the end of camp, Antonio Rosas was able to make the switch from the big ball to the small ball. "I am getting used to the small ball. It is hard, but fun," remarked a thrilled Antonio. Due to the contagious enthusiasm of the handball campers, some members of the concurrent squash camp stepped on the handball court and joined the handball camp for a bit. "I like handball," surprised squash camper Audrey said with a smile, "next year I am going to enroll in the handball camp!"

Due to the outstanding largesse of the Olympic club members and the San Jose Handball Club, a total of nine non-Olympic Club members were sponsored into the camp, shuttled to and from San Jose all four days, and provided with lunch. "The generosity is just overwhelming," reported Emmett. "Many people donated tons of time and money to make this camp a success. I would like to especially thank Dean Crispen, Kevan Del Grande, Mike Linnik, Ron Strausbaugh, Girlie Manuel, Isabella Engler, the WPH, and all the members of the Olympic Club and San Jose Handball Club that chipped in to make this camp successful. I can't wait until next year."

Keep an eye out on juniorhandball.org, as new clinic opportunities and recaps pop up weekly. Want to coach a clinic or a junior handball program? Need more information regarding junior handball? The Junior WPH group spans multiple countries, continents and oceans with clinics happening daily. We can help! Contact WPH Development Director David Fink at fink@race4eight.com.

To enable Junior WPH to continue to host junior handball clinics and tournaments across North America with Certified WPH Coaches, the World Players of Handball invites you to make a tax-deductible donation today in supporting the growth of the game. 100% of the donations received by the WPH go towards junior handball development.  Donate on-line here, or send your generous gifts through PayPal (extremehandball@cs.com) or by mailing checks to:  WPH, 3561 E. Sunrise Dr. Suite 125, Tucson, AZ, 85718.

Emmett Peixoto

WPH Master Instructor

Posted on: August 19, 2017, by : DV