Carl Hayden @ #TheMemorial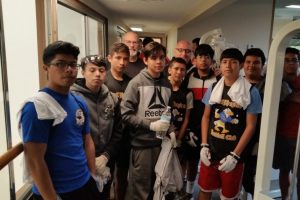 Written by Chris Hogan, Carl Hayden High School Head Handball Coach
Phoenix, AZ, WPH Press, 11/12/19-
On the first weekend of November, the Carl Hayden Handball Club journeyed to Tucson to play in the Race 4 Eight Tucson Memorial Tournament, which featured the best men's, women's, and senior professional handball players in the world. Carl Hayden took 11 scholars, five returning players and six new members to play again in the JR WPH Memorial double elimination singles tournament.
The Carl Hayden players played against the top two 13-and-under players in the country from the Fred Lewis Foundation, as well as a very talented player from Ireland. All of our players did their best and learned a little bit more about themselves and about small ball. I was very proud of their effort, their sportsmanship towards their opponents, and respect for their environment.
The pro players and tournament directors at the Memorial Tournament were extremely supportive of our participation and our program. I want to thank David Fink, the 5th ranked player in the world & WPH Development Director and Abraham Montijo, the 15th ranked player in the world and Fred Lewis Foundation Executive Director for keeping the JR WPH event flowing. Carl Hayden Handball Clubs looks forward to future handball events/clinics with the World Players of Handball (WPH).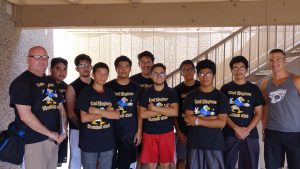 Once again, I want to thank all Falcons for their support of our players, but most of all, our program.

Follow all of the latest news from the WPH HERE

Follow all of the latest news from JR WPH HERE

Keep an eye out on juniorhandball.org, as new clinic opportunities and recaps pop up weekly. Want to coach a clinic or a junior handball program? Need more information regarding junior handball? The Junior WPH group spans multiple countries, continents and oceans with clinics happening daily. We can help! Contact WPH Development Director David Fink at david.fink@wphlive.tv

To enable Junior WPH to continue to host junior handball clinics and tournaments across North America with Certified WPH Coaches, the World Players of Handball invites you to make a tax-deductible donation today in supporting the growth of the game. 100% of the donations received by the WPH go towards junior handball development. Donate on-line HERE or send your generous gifts through PayPal (HERE) or by mailing checks to: WPH, 3602 E Ft Lowell Rd, Tucson, AZ, 85716.

Become a handball insider by enjoying never before seen videos, pro commentary, special awards, Sports Casts archives and new episodes, live broadcasts, and much more by supporting the WPH and inspiring the next generation of players through the WPH Patreon program.

Become a WPH Patreon HERE

Posted on: November 12, 2019, by : DV