Carl Haden H.S. at Venice Beach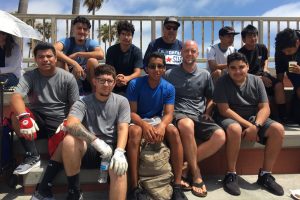 Phoenix, AZ, WPH Press, 8/18/19- Six members of Phoenix's Carl Hayden H.S. handball team traveled 370 miles west to Venice Beach to compete in the Jul 17-21, '19 USHA National Jr 3 Wall Championships. Recent Carl Hayden graduate Rodrigo Silva made to the semifinals of the 19-and-under singles, as well as the doubles with Chris Cedeno, earning Rodrigo MVP honors for Carl Hayden.
"Our kids had an opportunity to meet and take pictures with 3-Wall national champion Sean Lenning, what a thrill," boasted Carl Hayden handball team head coach Chris Hogan. "Our Club would like to thank the USHA, especially Mr. Krueger, for hosting a wonderful event and experience for our students.
Carl Hayden Falcon Family, we hope you will continue to support and encourage our students to become the best academic students, and most of all to participate in our wonderful sport of handball!"
Carl Hayden's high school team has enjoyed numerous tournaments in Phoenix and Tucson, constructing a "Wall of Fame" in the school to commemorate a number of their handball highlights from the past year. "Coach Hogan has been an incredibly enthusiastic and positive role model to so many high school handball players at Carl Hayden High School," stated WPH Development Director David Fink. "From holding weekly handball practices to driving the team hundreds of miles to attend clinics and tournaments, Coach Hogan has truly become of the game's great leaders and ambassadors. Thank you Coach Hogan!"
JR WPH is proud to have supported Carl Hayden High School's handball program and any junior handball program providing opportunities for the next generation of handball players to develop a lifelong passion for handball.
Photos Courtesy of Carl Hayden Handball Coach Chris Hogan

Follow all of results from the 2019 USHA National Junior 3-Wall Championships HERE

Keep an eye out on juniorhandball.org, as new clinic opportunities and recaps pop up weekly. Want to coach a clinic or a junior handball program? Need more information regarding junior handball? The Junior WPH group spans multiple countries, continents and oceans with clinics happening daily. We can help! Contact WPH Development Director David Fink at david.fink@wphlive.tv

To enable Junior WPH to continue to host junior handball clinics and tournaments across North America with Certified WPH Coaches, the World Players of Handball invites you to make a tax-deductible donation today in supporting the growth of the game. 100% of the donations received by the WPH go towards junior handball development. Donate on-line HERE or send your generous gifts through PayPal (HERE) or by mailing checks to: WPH, 3602 E Ft Lowell Rd, Tucson, AZ, 85716.

Become a handball insider by enjoying never before seen videos, pro commentary, special awards, Sports Casts archives and new episodes, live broadcasts, and much more by supporting the WPH and inspiring the next generation of players through the WPH Patreon program.

Become a WPH Patreon HERE

Posted on: August 18, 2019, by : DV