Atlanta JR WPH Clinic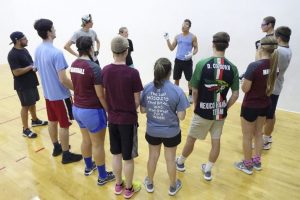 Atlanta, GA, WPH Press, 10/8/18- The Missouri State Handball team made the 14-hour drive from Springfield, Missouri, to Atlanta, Georgia, packing ten players into two cars to attend the Race4Eight 8's first stop of the year at the R48 8 Ron Cook Peachtree Open. Within minutes of arriving at the event, the MOState handball team was treated to a Junior WPH instructional handball clinic, led by Race 4 Eight pros David Fink and Marcos Chavez. Fink and Chavez focused on the V Pass, the Power Serve, as well as handball conditioning exercises.
The 10 college students ranged from novice to open level players, with each thrilled to learn skills and drills to improve their handball games.
"We try to make it to every tournament we can because we love the tournaments and getting a chance to play," stated MO State All American and team captain Sam Esser.
"The Race 4 Eight tour is an incredible platform to inspire young players and we're thrilled to be able to provide opportunities for young players to share the court and be inspired by the best handball players in the world," stated Fink.
Keep an eye out on juniorhandball.org, as new clinic opportunities and recaps pop up weekly. Want to coach a clinic or a junior handball program? Need more information regarding junior handball? The Junior WPH group spans multiple countries, continents and oceans with clinics happening daily. We can help! Contact WPH Development Director David Fink at david.fink@wphlive.tv

To enable Junior WPH to continue to host junior handball clinics and tournaments across North America with Certified WPH Coaches, the World Players of Handball invites you to make a tax-deductible donation today in supporting the growth of the game. 100% of the donations received by the WPH go towards junior handball development. Donate on-line here, or send your generous gifts through PayPal (extremehandball@cs.com) or by mailing checks to: WPH, 3561 E. Sunrise Dr. Suite 125, Tucson, AZ, 85718.

Posted on: October 9, 2018, by : DV