ASU Sun Devils Mentor Students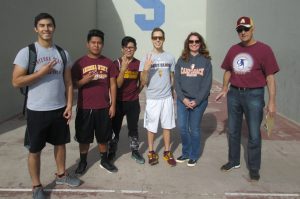 Phoenix, AZ, WPH Press, 12/13/17- Members of the Arizona State University Sun Devil Handball Team visited two local high schools this week to mentor the students on handball and the importance of education.
The format was 3-wall doubles with eye guards, gloves and small balls being used for all events.  For some of the high school students, it was their first or second time playing with the small blue sphere.   Each doubles team was comprised of one ASU student and one high school student.  This allowed the Sun Devils to encourage and instruct the high schoolers on proper small ball techniques.
Coach Chris Hogan helped organize the event at Carl Hayden HS and was enthused with the outcome.  "It was great to see our players competing and learning small ball from the ASU students.  It shows them what is possible if they put their mind to it."  Local coach Don Stewart was on hand to offer encouragement and pointers to the students and noted "the Falcon Handball Club continues to improve."  Sun Devil Juan Valerio is a former student of CHHS and commented that he really enjoyed visiting his alma mater.
The Camelback HS event was made possible through the efforts of Sponsor Kathryn Wagner, Athletic Director Steve Kuipers and Coach Jim Reitmyer. Two Sun Devils are former Camelback Spartans:  David Frances and Esteban Morales.  They enjoyed being on their old campus and playing with – and against – their old schoolmates.
The Sun Devils have begun planning a small ball tournament at ASU for the spring of 2018 and will make sure to invite the high school students from the Phoenix and Tucson areas.

Keep an eye out on juniorhandball.org, as new clinic opportunities and recaps pop up weekly. Want to coach a clinic or a junior handball program? Need more information regarding junior handball? The Junior WPH group spans multiple countries, continents and oceans with clinics happening daily. We can help! Contact WPH Development Director David Fink at fink@race4eight.com

To enable Junior WPH to continue to host junior handball clinics and tournaments across North America with Certified WPH Coaches, the World Players of Handball invites you to make a tax-deductible donation today in supporting the growth of the game. 100% of the donations received by the WPH go towards junior handball development.  Donate on-line here, or send your generous gifts through PayPal (extremehandball@cs.com) or by mailing checks to:  WPH, 3561 E. Sunrise Dr. Suite 125, Tucson, AZ, 85718.

Dan Willeford

ASU Handball Head Coach

Posted on: December 14, 2017, by : DV