Argos Handball Heats Up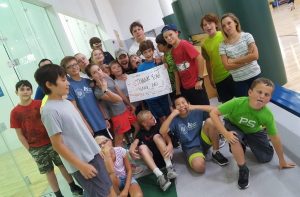 Pensacola, FL, WPH Press, 5/22/18- The University of West Florida's handball team enjoyed a sensational '18 USHA Collegiate National Tournament, taking 2nd place in DII and 6th overall on the back of Sierra Hansen's All-American performance; becoming the first UWF player to reach the open, as well as Argo stars Zach Babcock, Ryan Gaynor, Annie Wallace, and Alan Moore making the semifinals in their respective skill divisions.
In addition to the USHA Collegiate Nationals, the UWF Argos held tournaments and clinics at the UWF Rec Center during the 2017/2018 season, including a WPH-sponsored clinic from R48 #1 Killian Carroll, while also traveling to major handball tournaments in Texas and Missouri. The Argos not only improved their handball games, but also gained experience and built friendships with fellow handballers in the Southeast and Midwest.
The JR WPH sponsored UWF Argonauts have an exciting summer and fall planned, as the UWF handball fanatics will introduce new players at the Argos Kids Camp for youngsters between the ages of 6-15 and host freshman handball orientations at the start of school in the fall. "A lot of our players caught up on coursework after the collegiate nationals to wrap up the spring semester, but we're all looking forward to getting back on the courts this summer," stated UWF Handball Club founder and 2017 JR WPH Collegiate Coach of the Year Michael Morgan. "On top of coaching at the Argos Kids Camp and introducing new players at freshman orientation, we'll start practicing regularly and hold a tournament or two during the summer months."
UWF is one of the most active collegiate handball programs in the country and JR WPH is thrilled to support the Argos. Keep up the great work!
Keep an eye out on juniorhandball.org, as new clinic opportunities and recaps pop up weekly. Want to coach a clinic or a junior handball program? Need more information regarding junior handball? The Junior WPH group spans multiple countries, continents and oceans with clinics happening daily. We can help! Contact WPH Development Director David Fink at david.fink@wphlive.tv

To enable Junior WPH to continue to host junior handball clinics and tournaments across North America with Certified WPH Coaches, the World Players of Handball invites you to make a tax-deductible donation today in supporting the growth of the game. 100% of the donations received by the WPH go towards junior handball development. Donate on-line here, or send your generous gifts through PayPal (extremehandball@cs.com) or by mailing checks to: WPH, 3561 E. Sunrise Dr. Suite 125, Tucson, AZ, 85718.

Posted on: May 23, 2018, by : DV