2017 JR WPH Holiday Cup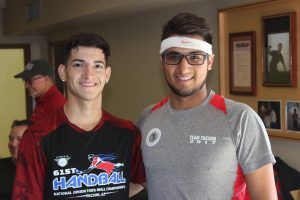 JR WPH was thrilled to present the 2017 Tucson Amateur Championships on the second weekend in December, featuring the JR WPH Collegiate Singles, Amateur Singles, and 50+ doubles. Players between the ages of 18-67 from Tucson and Phoenix competed in the one-day handball extravaganza at the Tucson Racquet Club.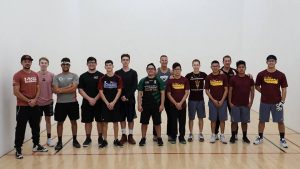 JR WPH Collegiate Singles
A dozen collegiate stars from Pima College and Arizona State University battled for the first JR WPH Collegiate Championship, with the collegians producing sensational matches and demonstrating outstanding sportsmanship.
Fred Lewis Foundation star Carlos Espinoza entered the event as the top seed and cruised to the semifinal with an impressive win against Arizona State's Esteban Morales. FLF star Noe Rios and FLF alum and current Arizona State star Esteban Camacho played the closest match in the quarterfinals, with the longtime friends and rivals needing overtime to decide a winner. Rios rallied from a 24-25 deficit to score the last three points and advance to the face Espinoza.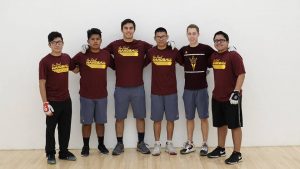 In the bottom bracket quarterfinals, ASU's Derek Doyle edged FLF's Alejandro Sandoval, while Pima College's Dylan Key ousted ASU's Javier Davila.
Espinoza was too strong for Rios in the upper bracket semifinal, while Key cruised past ASU's Doyle in the bottom bracket semifinals.
Despite both living in Tucson, Espinoza and Key met for the first time in the Collegiate Final. Key started strong in the final, racing to a 10-2 lead and seemingly on the verge of a one-game lead in the best of three game final. Espinoza closed the gap and eventually tied Key at 11, then carried the momentum to a one-game lead.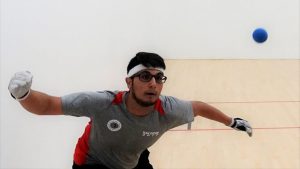 Espinoza continued to apply pressure in game two, building an 11-6 lead and eventually reaching match point at 14-11.
Key played his best ball of the match with his back against the wall, tying the score at 14.
With the score tied at 15, Espinoza was able to win consecutive points to clinch the title. "Carlos just played great," stated a gracious Key. "That was a really fun match."
Quarterfinals
Carlos Espinoza def Esteban Morales 25-5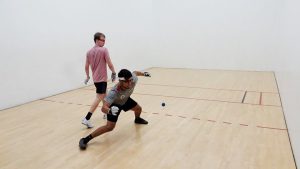 Noe Rios def Esteban Camacho 27-25
Derek Doyle def Alejandro Sandoval 25-20
Dylan Key def Javier Davila 25-4
Semifinals:
Carlos Espinoza def Noe Rios 25-10
Buddy Key def Derek Doyle 25-7
Final: C. Espinoza def Key 15-12, 17-15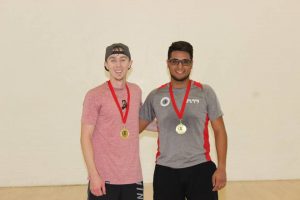 3rd Place Final: Rios def Doyle 25-20
Keep an eye out on juniorhandball.org, as new clinic opportunities and recaps pop up weekly. Want to coach a clinic or a junior handball program? Need more information regarding junior handball? The Junior WPH group spans multiple countries, continents and oceans with clinics happening daily. We can help! Contact WPH Development Director David Fink at fink@race4eight.com
To enable Junior WPH to continue to host junior handball clinics and tournaments across North America with Certified WPH Coaches, the World Players of Handball invites you to make a tax-deductible donation today in supporting the growth of the game. 100% of the donations received by the WPH go towards junior handball development.  Donate on-line here, or send your generous gifts through PayPal (extremehandball@cs.com) or by mailing checks to:
WPH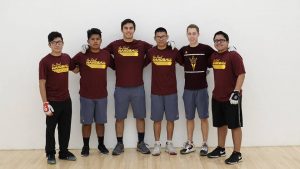 3561 E. Sunrise Dr. Suite 125,

Tucson

Arizona

85718

Posted on: December 11, 2017, by : DV