18 UWF Argo Classic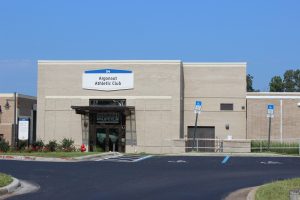 Pensacola, FL, WPH Press, 1. 18. 18– With a tremendous amount of local support from players like Bob Van Dyke and Joel Levy, this year's Argo Classic Tournament was a huge success. The 2018 UWF Argo Classic Tournament had a record number of participants, and with some creative bracket management, all of the players played a minimum of three matches. Current UWF Handball Club President Ashley Gilliam did a tremendous job throughout the weekend of keeping the tournament on schedule and on time with minimal delay between matches, which as many tournament directors know is no easy task.
This year's competition attracted collegiate players from Missouri State University, University of Texas, Texas A&M, and as always, a strong representation from our University of West Florida team. The UWF team has even started attracting interest from our varsity sports coaching staff, including our softball coaches, who excelled in their brackets.
Missouri State stars Sam Esser and Max Langmack met in the Men's Open Singles final, with Esser edging his teammate in two close games. Christina Pecaut ensured a Missouri State slam in the open singles brackets, ousting Missouri State teammate Taylor Rumping in an 11-7 tiebreaker in the Women's Open Singles final.
Aside from the great competition and continued camaraderie between all the collegiate teams, one of the leading attractions of the weekend was our Recreation Centers massage therapist, Molly, who helped the Handball team raise money by offering massages throughout the weekend.
Overall this year's tournament was a great success, and the event would not have been possible without the continued support of our local players, team members, and the WPH and USHA. Thank you to everyone that helped and came out to this year's event, looking forward to seeing you next time.
"JR WPH is extremely proud to support the UWF Handball Club and the Argo Classic Tournament," stated WPH Development Director David Fink. "The UWF Handball Club exemplifies exactly what JR WPH aims to create; an opportunity for young people to learn and love the sport of handball in a positive and fun environment. Thank you to Coach Morgan, Ashley Gilliam, and all of the UWF players for making the UWF handball program one of the best in the country."
To see all of the results from the 2018 Argo Classic Tournament, go here
Keep an eye out on juniorhandball.org, as new clinic opportunities and recaps pop up weekly. Want to coach a clinic or a junior handball program? Need more information regarding junior handball? The Junior WPH group spans multiple countries, continents and oceans with clinics happening daily. We can help! Contact WPH Development Director David Fink at david.fink@wphlive.tv
To enable Junior WPH to continue to host junior handball clinics and tournaments across North America with Certified WPH Coaches, the World Players of Handball invites you to make a tax-deductible donation today in supporting the growth of the game. 100% of the donations received by the WPH go towards junior handball development. Donate on-line here, or send your generous gifts through PayPal (extremehandball@cs.com) or by mailing checks to: WPH, 3561 E. Sunrise Dr. Suite 125, Tucson, AZ, 85718.

Michael Morgan

UWF Handball Club Founder

Posted on: January 18, 2018, by : DV