JR WPH w/Hope in Handball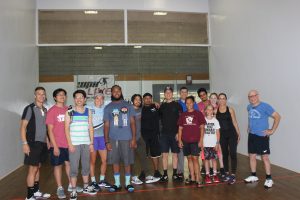 Pittsburgh, PA, World Players of Handball Press, 7/10/17- Junior WPH proudly hosted one of the country's most thriving junior handball programs at the 2017 RFC, as Harisburg's Hope in Handball made the nearly four-hour drive across the state of PA to be a part of one of the country's best events. "We just love everything the WPH does and we are so happy to bring our kids to such a great event to watch the pros, learn, play and just be a part of it," stated Hope in Handball's founder and director David Botero.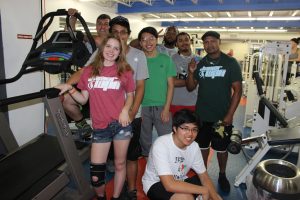 The Hope in Handball juniors played in the 4-Wall singles and mixed doubles, while also taking a clinic and participating in a skills competition with WPH Master Instructor David Fink. After discussing the fundamentals of the sidearm stroke and learning several drills for self-practice, the junior competed in a lowest kill competition and a hit the target serve completion. Chris Persaud hit a flat roll out on his first attempt, winning a "Be the Beast" shirt prize.
"I really learned a lot from the clinic and I'm looking forward to practicing the new techniques," stated Hope in Handball's Hoang Le.
JR WPH Sportsmanship Award and JR Player of the Tournament
Hope in Handball's Chris Persaud was awarded with the RFC's Sportsmanship Award for his exemplary sportsmanship on and off the court throughout the day at the RFC. Hope in Handball's Serenity Vidot was awarded with the RFC's "Top Junior Player" for her outstanding play in the singles and mixed doubles. "Serenity is our best player and she definitely deserves the award," stated David Botero. "She just loves the game and wants to learn as much as she can."
Thank you to David Botero, Ray Persaud, Sr. and all of the youngsters from Hope in Handball for inspiring all of the players and fans at the RFC 9.
To read about the entire sensational WPH RFC 9, go here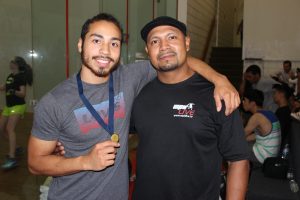 Keep an eye out on juniorhandball.org, as new clinic opportunities and recaps pop up weekly. Want to coach a clinic or a junior handball program? Need more information regarding junior handball? The Junior WPH group spans multiple countries, continents and oceans with clinics happening daily. We can help! Contact WPH Development Director David Fink at fink@race4eight.com

To enable Junior WPH to continue to host junior handball clinics and tournaments across North America with Certified WPH Coaches, the World Players of Handball invites you to make a tax-deductible donation today in supporting the growth of the game. 100% of the donations received by the WPH go towards junior handball development.  Donate on-line here, or send your generous gifts through PayPal (extremehandball@cs.com) or by mailing checks to:  WPH, 3561 E. Sunrise Dr. Suite 125, Tucson, AZ, 85718.

Posted on: July 10, 2017, by : DV